AHA! AWARENESS WITH HUMAN ACTION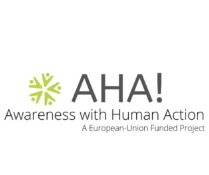 AHA! Awareness with Human Action seeks to contribute to the response efforts of the COVID-19 pandemic by preventing conflict and building social cohesion in Pakistan, Sri Lanka, Bangladesh and broader South Asia. Through a collaborative approach, the project will increase outreach for initiatives that promote awareness of COVID-19 and constructive narratives that reduce discrimination, hate speech, and stigmatization against specific communities, primarily targeting religious leaders, and women and youth leaders as community influencers.
The conclusion of the project will result in enhanced capacities of religious and traditional leaders and women and youth leaders to increase awareness on COVID-19 prevention and response that emphasize collaboration by different faiths and communities as well as increased conflict prevention focused collaborative initiatives at national and regional levels to strengthen inclusive communities beyond COVID-19.
AHA! Awareness with Human Action is funded by the European Union and implemented in a consortium of partners, including: The Network for Religious and Traditional Peacemakers/ Finn Church Aid, World Faiths Development Dialogue (WFDD), the Center for Peace and Justice – Brac University (CPJ), Center for Communication and Development of Bangladesh (CCD), Islamic Relief Worldwide (IRW), Youth Development Foundation (YDF), Sarvodaya, INEB, AMAN, UNOY and KAICIID.   The project began in July 2020 and continues for 18 months.
AHA! Town Halls
As part of the AHA! project kick-off, four Town Halls were hosted to explore consequences of COVID-19 within the three countries of focus and the wider South Asian region.  The first regional town hall virtually convened more than 45 peacemakers, including religious, women and youth leaders as well as wider international and national actors from South Asia, to explore the impact of COVID-19 on social cohesion and conflict prevention through context-specific dialogue.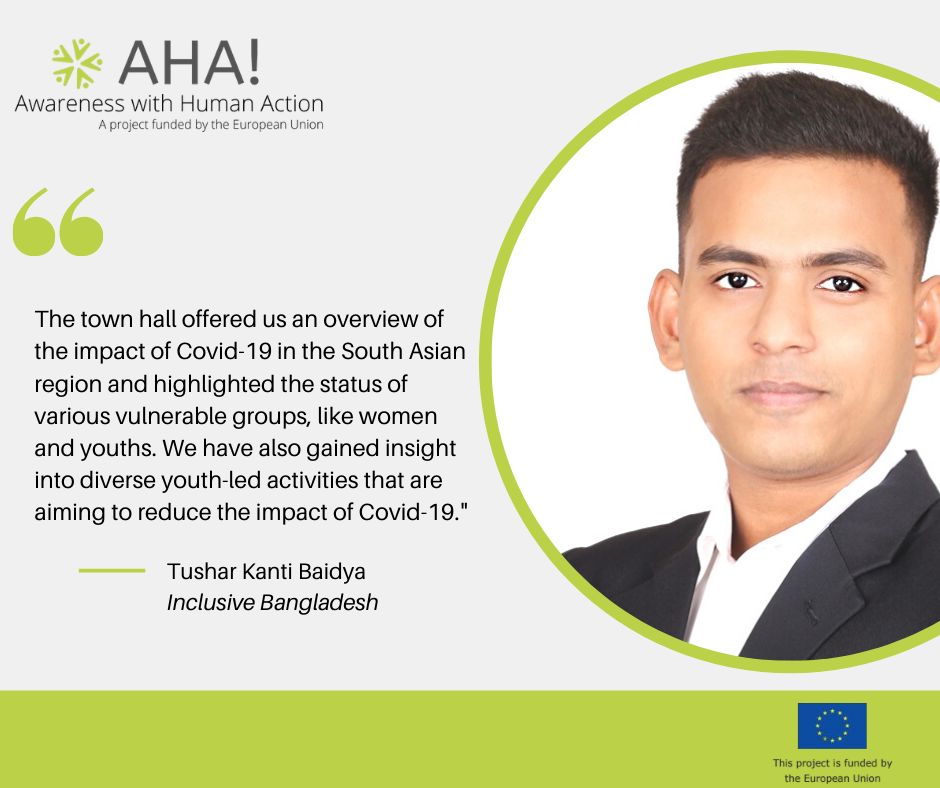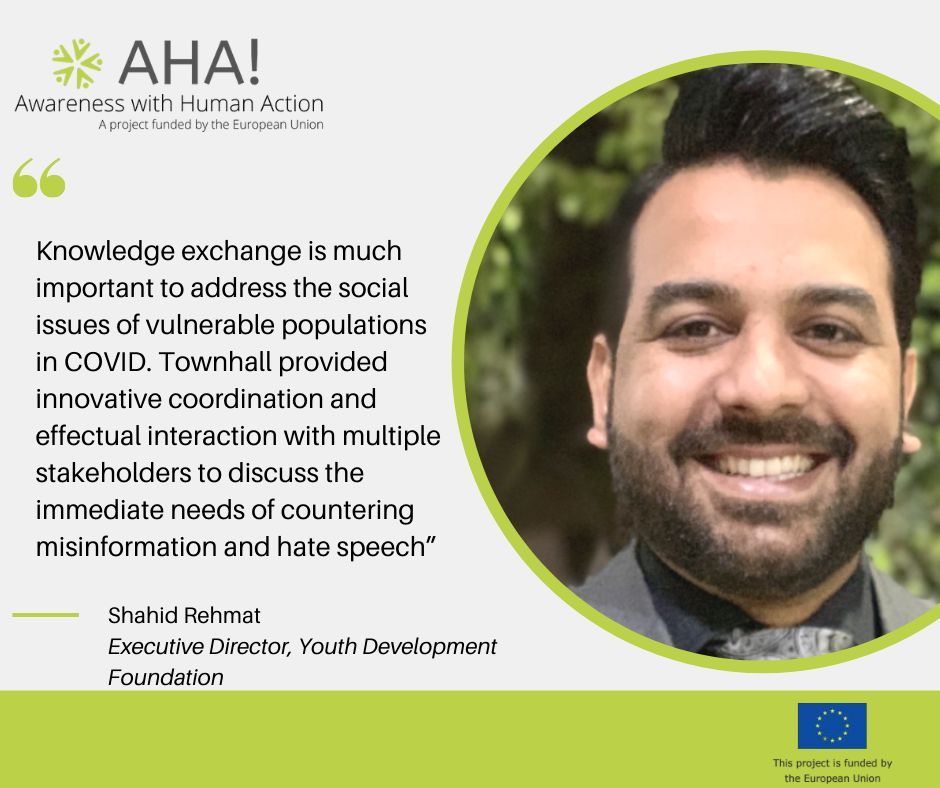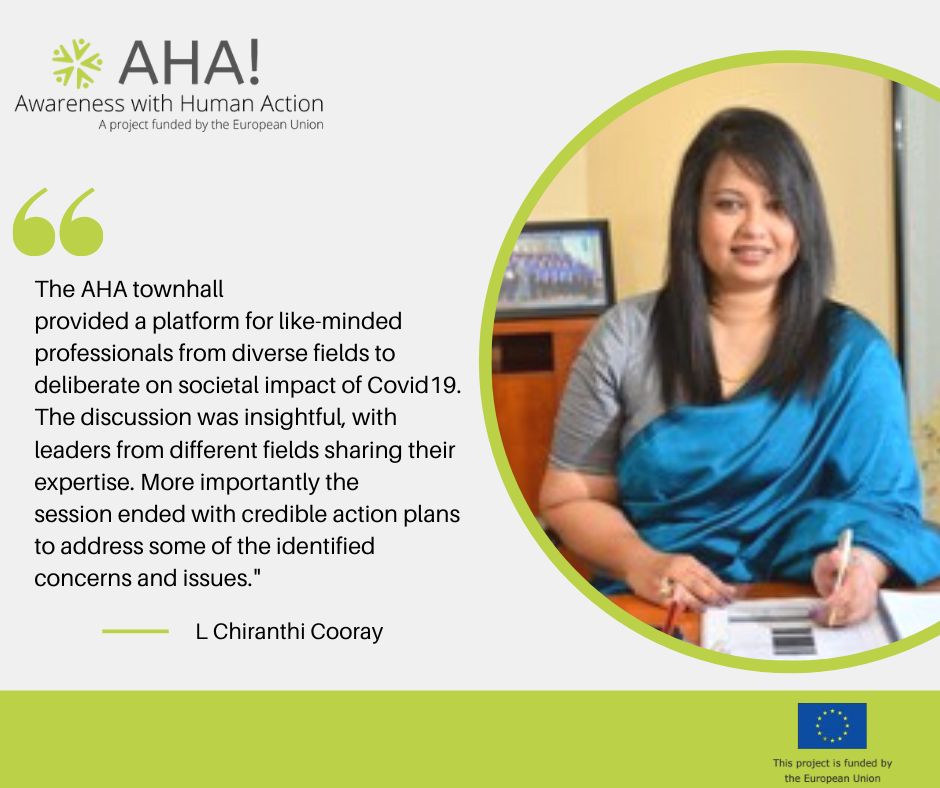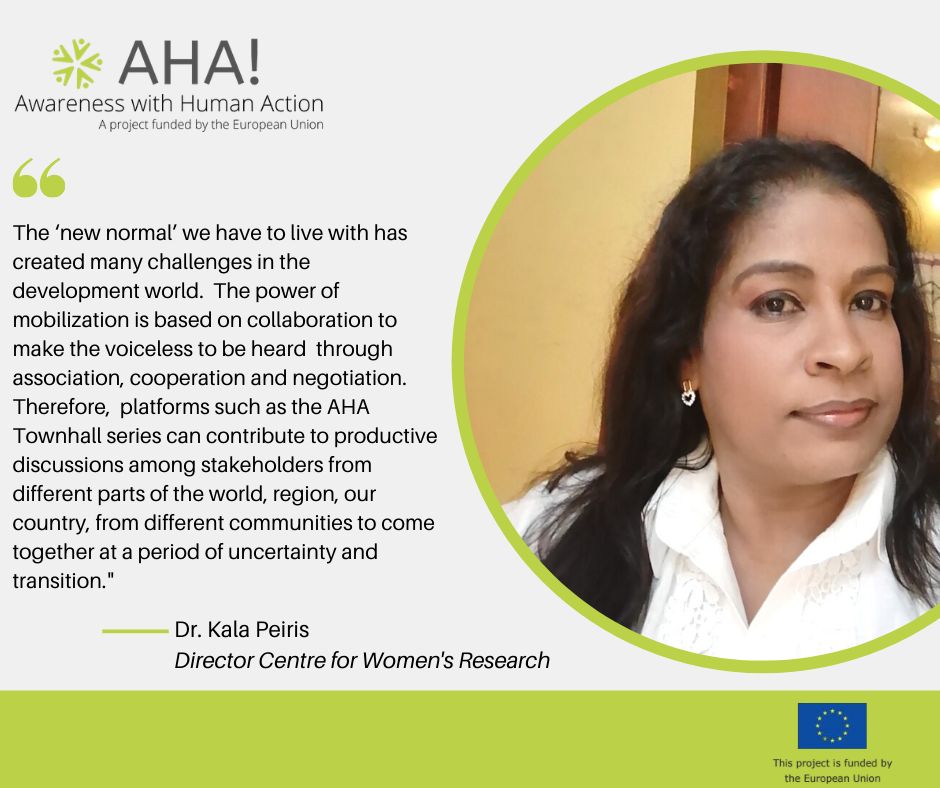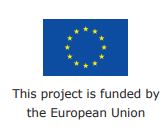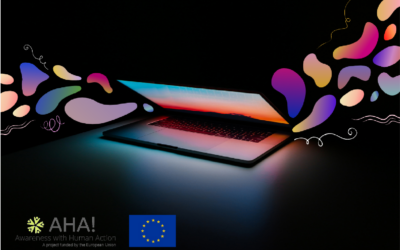 AHA! Awareness with Human Action seeks to contribute to the response efforts of the COVID-19...