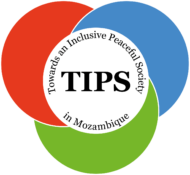 'Towards an Inclusive and Peaceful Society in Mozambique' (TIPS) is an European Union funded project that aims to contribute to conflict prevention, crisis preparedness and response and peacebuilding through inclusive natural resource governance and management through strengthening the leadership and capacities of civil society actors as well as preventing and addressing natural resource based conflicts through multi-stakeholder dialogue and engagement in Mozambique.
The outcomes of the project are 1) Increased collaboration and mutual learning between communities, CSOs, national and provincial authorities, and the private sector on conflict resolution and natural resource management (NRM), and 2) Enhanced and institutionalized participation of target CSOs in natural resource governance and development processes.
TIPS is supported by a consortium of partners comprised of the Network for Religious and Traditional Peacemakers (NRTP)/Finn Church Aid (FCA), Instituto para a Democracia Multipartidária (IMD), Instituto de Estudos Sociais e Económicos (IESE) and in collaboration with project associates, The Council of Religions in Mozambique (COREM) and Faith Associates.