During the COVID-19 pandemic, faith communities have played crucial roles, both in partnerships with civil society as well as government entities, in order to address public health challenges and to keep societies functioning during lockdowns and quarantines.
As part of the G20 Interfaith Forum, Network Executive Director, Dr. Mohamed Elsanousi, was a panelist focusing on the importance of religious leaders finding common ground with policymakers to support vulnerable groups during the COVID-19 crisis. In the context of the COVID-19 emergency, women, children, the elderly, the disabled, and some minority communities experience distinctive and severe challenges. Their vulnerability is closely connected to economic, emotional, social, or health disparities. Religious communities and actors have strong ethical teachings that focus on vulnerable people and during the crisis many have responded with creativity.
It is in the common interest of governments to connect and collaborate with religious and faith-based actors to support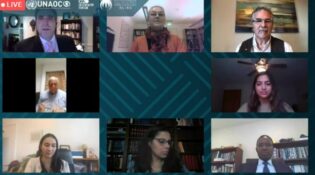 combating COVID-19. Religious and faith-based institutions, actors and teachings can positively contribute to preventing the spread of the virus and serve as a source of reliable information.  Religious and traditional actors are frequently well-positioned to respond and communicate information and teachings to their communities in times of crisis, and are often more influential than government actors.  Through this added-value, governments have realized the mutual benefit or collaboration and have actively sought to collaborate with religious communities to better address the pandemic in local communities.
For instance, in large parts of Somalia, communities do not have access to the correct information disseminated by government or health authorities.  To address this issue, the Network, through the support of the Ministry for Foreign Affairs Finland, convened a consortium of actors to work with prominent Somali and Somali diaspora figures, including women and youth, and local authorities to disseminate correct information on COVID-19, counter disinformation and to provide guidance on how to practice social distancing and other precautionary measures while abiding by one's religion. This collaboration fulfilled a need in which the government could not solely complete.
Policymakers must seek to expand faith-based collaboration well beyond religious leaders. Women and youth of faith are well positioned to function at a time of crisis as resilient community actors and innovative collaborators in addressing the pandemic and responding to the immediate needs of countering misinformation and hate speech.
Youth groups in South Asia are self-mobilizing and collaborating with elder-religious leaders to counter false-narratives expelled by extremist organizations and to report fake news. One such method is through conducting intergenerational online campaigns and webinars to promote interfaith values and tolerance while simultaneously providing accurate information related to the pandemic.  Additionally, civil society and faith-based organizations are also integrating moral governance and peace education lessons into the current curriculum.
As demonstrated, governments alone cannot combat this virus. A whole-of-society approach is necessary in order to combat the virus while ensuring vulnerable communities are protected.