Celebration of the UN International Day of Tolerance
To commemorate the United Nations International Day of Tolerance, the Sultanate of Oman, in collaboration with the Network, hosted a day-long celebration on Tuesday, November 16, 2022, under the theme "United Human Values and Sustainable Development for All." The event featured representatives from the Sultanate of Oman and Network members to reflect on their experiences, perspectives, and solutions to responding to the crises and developing new and transformative pathways to promoting tolerance, mutual understanding, and peace.
This year's International Day of Tolerance comes at a time of significant international crisis and uncertainty. Today's crises are highly interlinked and multiple, including the COVID-19 pandemic, the climate crisis, the impacts of the conflict in Ukraine, and the deterioration of energy and financial systems, among others. These crises have revealed two truths: 1) while there are international laws – on protecting on ensuring fundamental rights such as freedom of speech, livelihood and education, and universal shared values for peaceful coexistence there is a lack of commitment and implementation; 2) the importance of a "whole of society approach", empowering local actors and leveraging their comparative advantages to overcome the current and future crisis. Only dialogue and cooperation can foster tolerance and mutual understanding among cultures and peoples.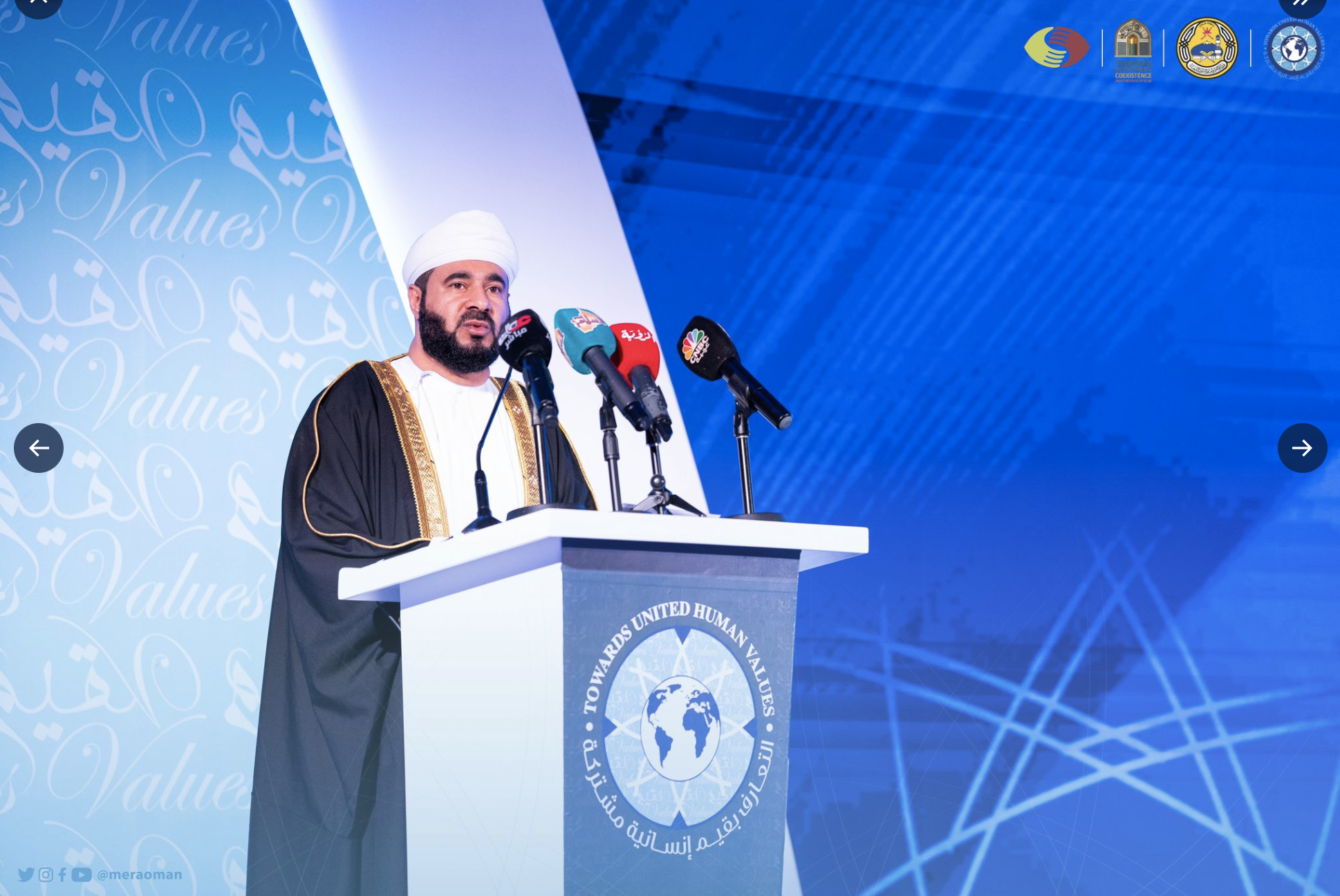 Photo: Ministry of Awqaf and Religious Affairs – Sultanate of Oman
Dr. Mohammed Said Al Ma'amari, Minister of Endowments and Religious Affairs, Sultanate of Oman, noted the Sultanate of Oman, in cooperation with organizations concerned with tolerance, coexistence, and understanding seeks to promote a culture of coexistence, integration, harmony, synergy, compassion for others, respect for human self, appreciation of diversity, respect for sanctities, and rejection of all forms of discrimination and intolerance.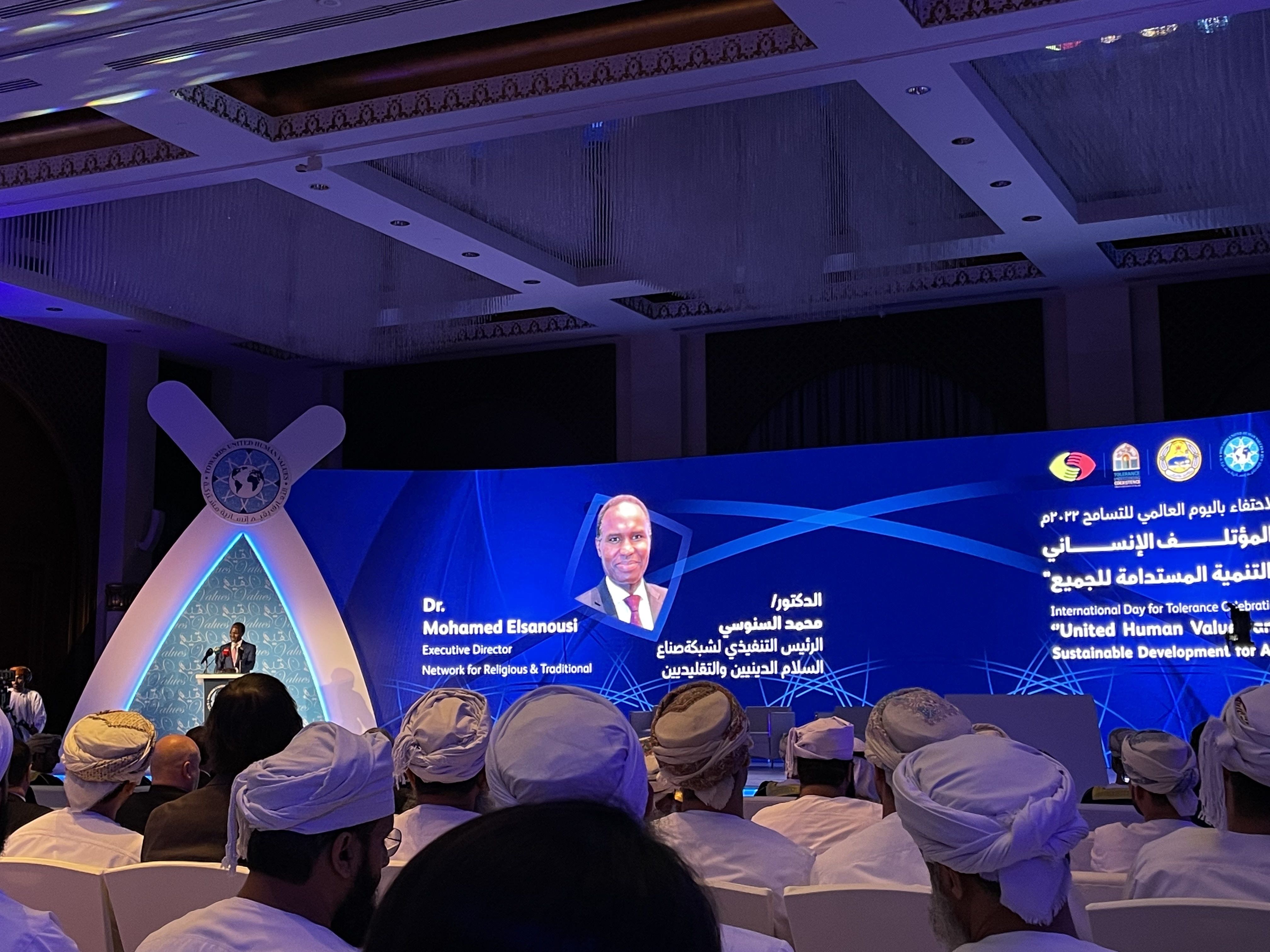 Dr. Mohamed Elsanousi givens opening remarks at the Day of Tolerance. Photo: Triss Yap
"Our longstanding partnership with the Ministry in supporting the Day of Tolerance and advancing the mission and vision of the Peacemakers Network exemplifies the true implementation of Sustainable Development Goal 17, which calls for global partnerships for sustainable development – and can be argued as a predicating factor to achieve all Sustainable Development Goals,"
noted Network Executive Director, Dr. Mohamed Elsanousi, in his opening remarks.
The day's agenda consisted of four high-level panel discussions, bringing together representatives from civil society, government, and multilateral institutions to discuss the promotion of tolerance and human values for the advancement of sustainable development.   The event uplifted a whole of society approach to achieving the Sustainable Development Goals (SDGs), including inclusive partnerships and collaboration across sectors, and cultural and geographic borders built upon shared principles and human values.  The day's first panel fostered a rich discussion on multi-stakeholder partnerships between religious actors, faith-based institutions, UN officials, and other relevant stakeholders to contribute to the achievement of the 2030 Agenda through upholding and protecting the principles of tolerance and human rights. 
The following day's panel discussion focused on multi-stakeholder collaboration between corporations and businesses to serve as drivers of change in promoting human values and cultural diversity. Actors from the private sector and governments worldwide discussed practical examples of how corporations and businesses can be drivers of change by promoting human values and cultural diversity.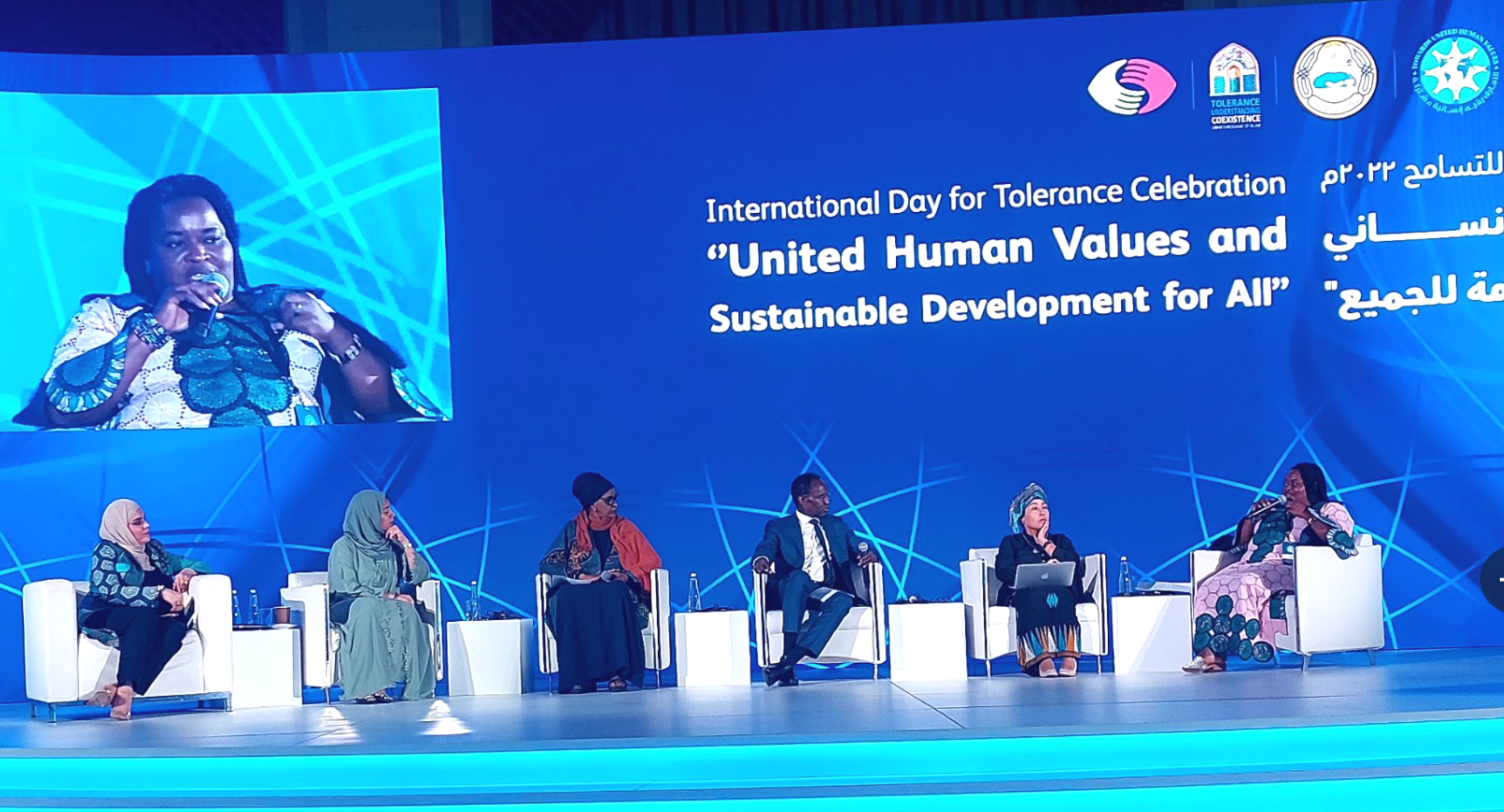 Panel Discussion: The Role of Women in Fostering Human Values and Accelerating Sustainable Development
During the panel, 'The Role of Women in Fostering Human Values and Accelerating Sustainable Development,' panelists expanded upon the critical work they are doing on the ground to increase women's leadership roles but reiterated the need that men also need to be empowered to provide space for women to lead. There needs to be a strong emphasis on integrating elements of SDG5 (Gender Equality), and SDG17 (Partnerships) to ensure meaningful female inclusion.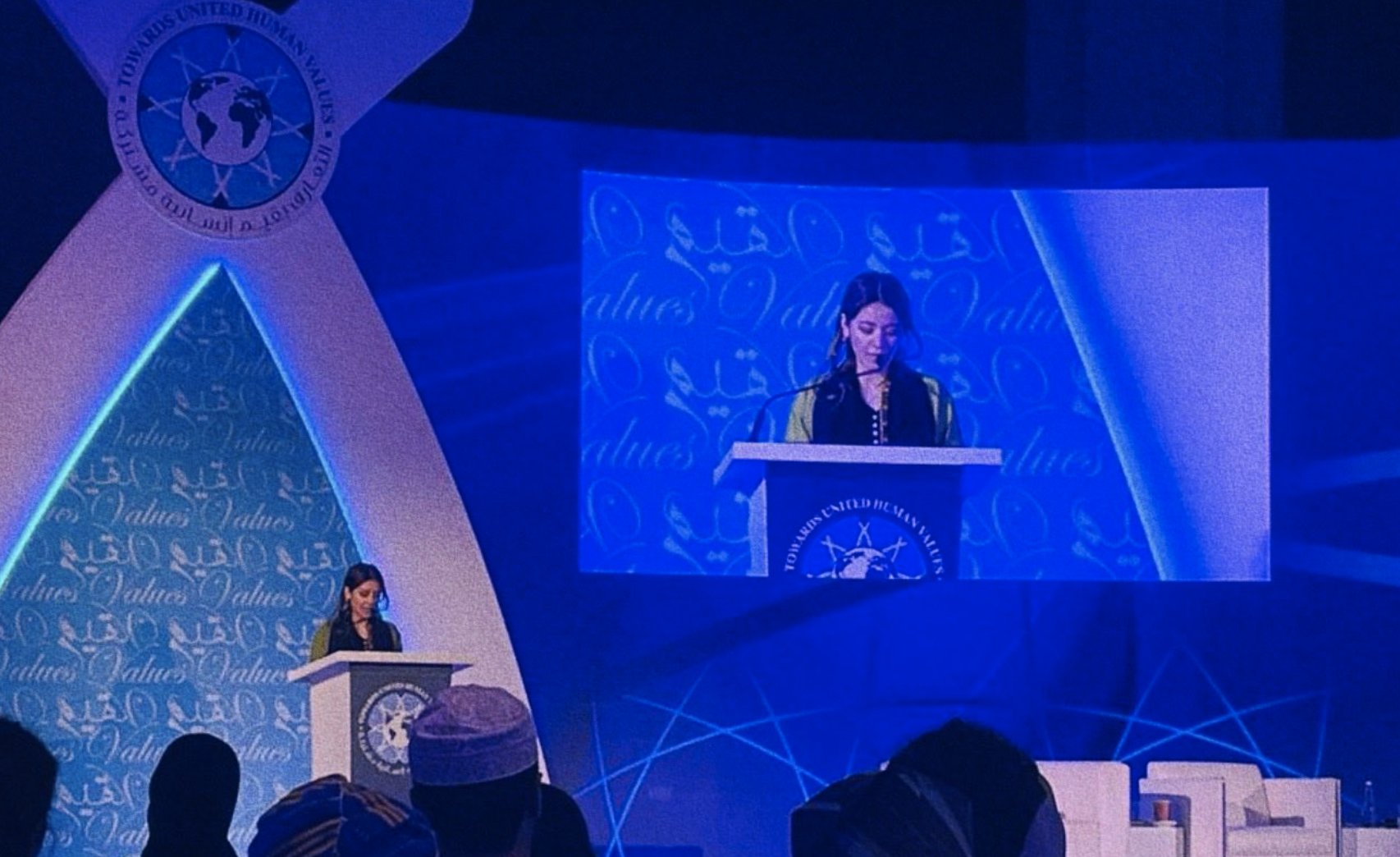 Heela Yoon, Founder of Afghan Youth Ambassadors for Peace, opens the youth panel discussion: The Role of Youth: Consolidating Human Values and Leading Sustainable Development 
Heela Yoon, founder of Afghan Youth Ambassadors for Peace opened the final panel session on the role of youth by reminding the audience that, "peace is not just the absence of war. Peace also means that young people have access to education, resources, participation, and leadership opportunities."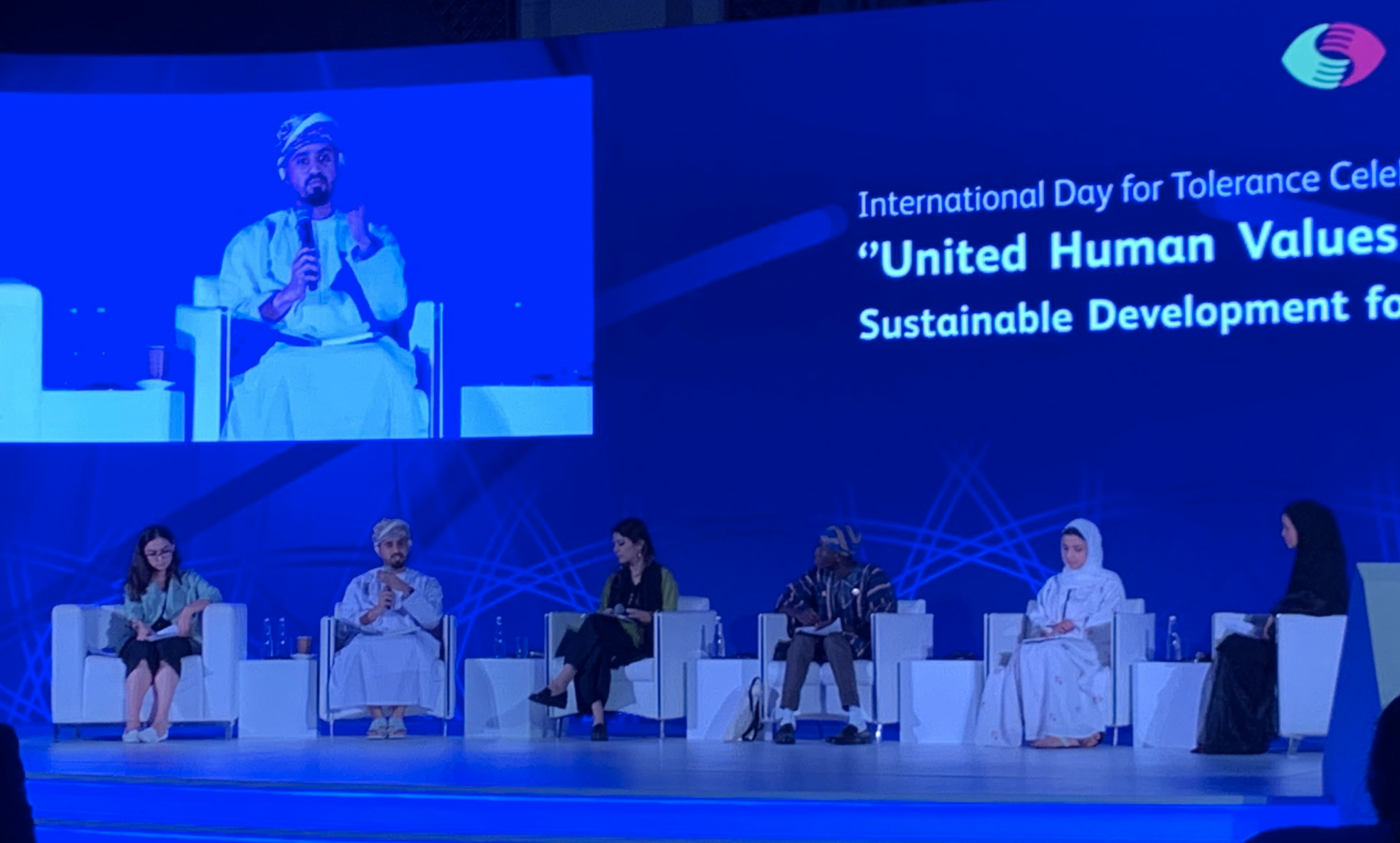 Panel Discussion: The Role of Youth: Consolidating Human Values and Leading Sustainable Development
Throughout the panel, the youth continued to emphasize the importance of intergenerational engagement. "Listen to young people. Please approach us rather than always having us approach you," called Youth panelist Fatima Hallel. Hallel shared that youth are ready, willing, able – and already- supporting locally-led initiatives to advance peace. However, there still is a significant gap in space for youth to meaningfully engage in official processes, as youth are often seen as inexperienced and too young to make decisions. "The challenge is the understanding of youth: young people are seen as those who need to be taught, not as people who have meaningful roles to play," shared Issah Toha, founder of African Students For Interfaith Tolerance.
Investing in youth participation is critical. As highlighted by Fatma Sultan Al Mukhaini, if time is dedicated to investing in youth capacity-building and leadership engagement, there will be a return on investment in the years to come because youth are the next generation of educators, politicians, leaders, mothers, etc. However, this cannot be possible if generations are still working in silos. It is time for prioritization of intergenerational collaboration.