Empowering Peace: Unveiling Successes of Asia Working Group's 2023 Small Grant Programs in South and Southeast Asia
Asia Working Group | August 2023
In August 2023, the Peacemakers Network's Asia Working Group (AWG) completed its small grant programs that started in February 2023 in South and Southeast Asia, specifically in Pakistan, Sri Lanka, Indonesia, and Thailand. Having completed over a dozen in-person trainings, several online campaigns, diversity tours, film screenings, and events with local and national politicians, the results of these initiatives showed great enhancement of community-level engagement through processes like confidence-building, inter-and intra-faith dialogue, capacity building and other initiatives aiming to improve female participation in peacebuilding and mediation.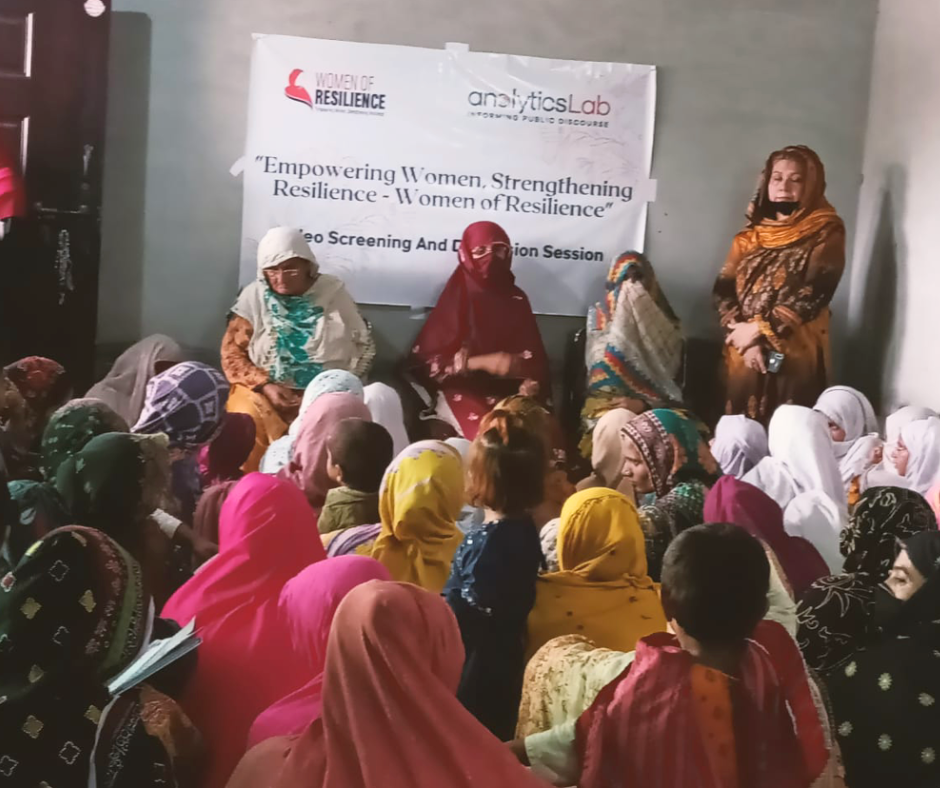 Women Stories of Resilience and Tolerance in Pakistan
Implemented by Analytics Lab in Southern Punjab, Pakistan, the Women of Resilience Campaign successfully published the chosen applicants' stories on local FM stations. Two 15-minute FM shows were arranged with a focus on highlighting the stories of resilient women. The campaign also shared all three stories on various social media channels. Five screening sessions of final videos of resilient women were organized in madrassas of South Punjab. 268 female madrasa students attended these sessions. Panel discussions were held, focusing on the campaign of Women of Resilience, their stories, challenges, and achievements. These screening sessions provided valuable opportunities for participants to learn from the videos and engage in discussions on interfaith harmony, peacebuilding, and the courage and resilience of women. The Crowning Ceremony event of the campaign which was organized to distribute awards and recognize the exceptional efforts of women dedicated to peacebuilding and interfaith harmony in their communities. Check out their social media below to see updates on their initiatives.
The 15th Peace Train Indonesia Goes to Palembang and Lampung – Women as Peacemakers
The 15th Peace Train, themed "Women as Peacemakers," was successfully conducted in Palembang and Lampung, Indonesia, under the auspices of the Indonesian Conference on Religion and Peace. The initiative featured a series of impactful events aimed at fostering peace and understanding. The journey commenced with a workshop centered on women's leadership and their indispensable role in peacebuilding endeavors. Through this interactive training, participants gained insights and tools to engage in interfaith dialogues. The program further encompassed enlightening interreligious dialogues, fostering connections among diverse communities including Christian, Hindu, and Islamic groups. It further shows that these dialogues provide a platform for constructive discussions and cross-cultural exchange, contributing to the broader goals of unity and harmony. To learn more of these efforts, news stories detailing the significant outcomes of the Peace Train Indonesia were published and can be accessed on their news site.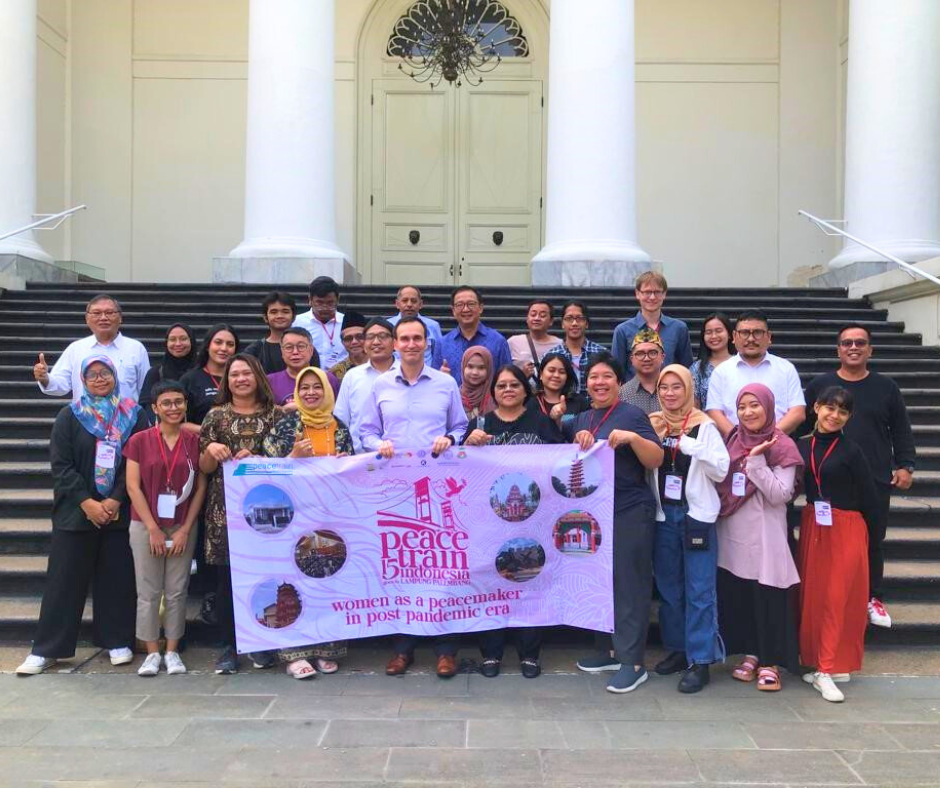 Embracing Diversity: The Transformative Journey of the 'Peace Through Women Lens' Campaign
This campaign has woven together a tapestry of impactful initiatives, driving positive change across various dimensions. The campaign's foundation lies in its dedication to capacity building, demonstrated through comprehensive training programs tailored for female journalists, content creators, and media students. These endeavors have not only honed their skills but have also amplified their voices as champions of peace. Integral to the campaign's success are the Community Peace Dialogues, fostering meaningful exchanges amongst diverse stakeholders ranging from religious leaders and community representatives to government officials, media practitioners, and academics.
The campaign's commitment to promoting diversity and unity is further exemplified through the innovative Diversity Tours. Guiding participants through religious sanctuaries, democratic assemblies, town halls, and minority enclaves, these tours offer enlightening glimpses into the nation's rich culture. The online "CURB HATE" campaign, another pillar of this endeavor, harnesses the power of digital platforms to counter hate speech and bigotry, nurturing a more compassionate online landscape.
Undoubtedly, a cornerstone of the campaign's legacy lies in the establishment of women's peace club initiatives across three universities. The clubs serve as the center for empowerment, education, and collaboration, perpetuating the campaign's values among the younger generation. To explore more on the initiatives and outcomes of this journey, visit the campaign's Facebook.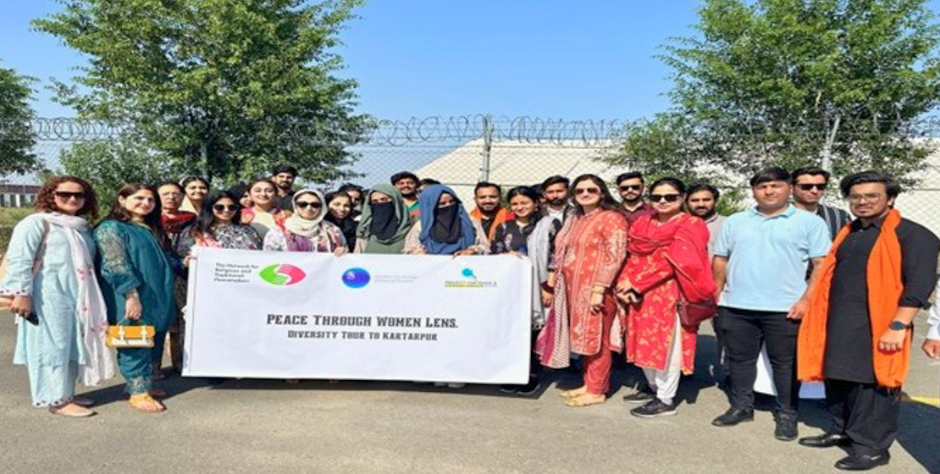 #Mobilize Towards Inclusive, Intergenerational, and Interreligious Female Peacebuilder Participation in Thailand's Deep South Peace Processes
A visionary initiative led by Anna Christi Suwardi in the Deep South region of Thailand, epitomizes the transformative potential of collaborative peacemaking efforts. The campaign encompasses a series of strategic actions designed to foster inclusivity, intergenerational wisdom, and interreligious harmony. The initiative provided a workshop that serves as a bridge for dialogue and interfaith capacity building that brought together Muslim and Buddhist female peacebuilders, providing a platform to identify shared challenges to inclusion while concurrently enhancing their negotiation skills.
A defining facet of the campaign is the spotlight it casts on intergenerational voices of female peacebuilders. By embracing the insights of the past and projecting them into the future, the initiative facilitates a dynamic exchange between senior and younger generations. The seasoned peacebuilders emphasize a deep understanding of conflict origins, while the younger peacebuilders advocates for enhancing the regional image as a cornerstone for sustainable peace.
The culmination of this peacebuilding journey is a forthcoming full video presentation that will encapsulate the essence of the initiative, providing a broader audience with insights into the campaign's strategies, successes, and the inspiring stories of the women behind it.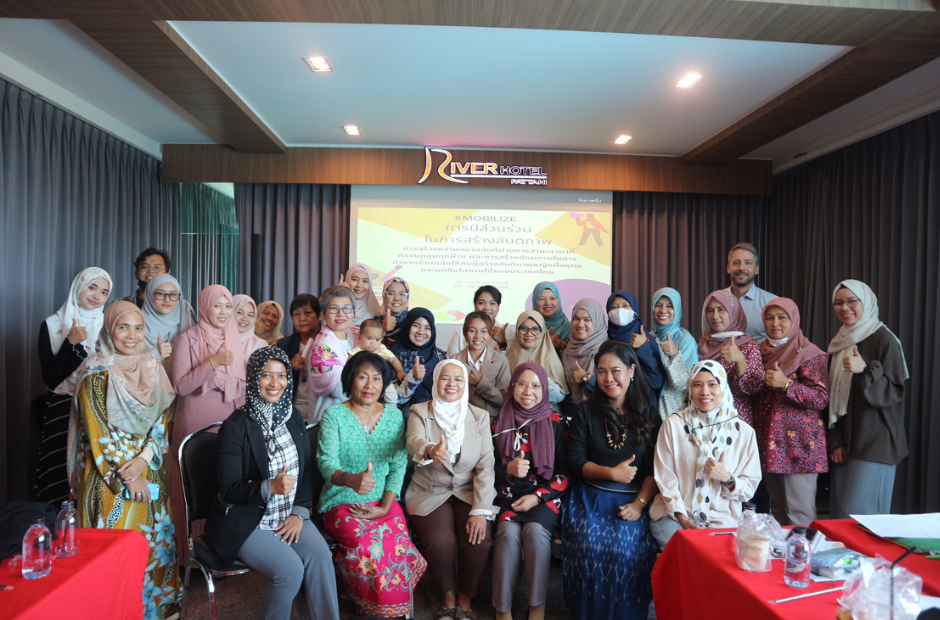 Female Religious Leaders for Dialogue and Mediation (FREEDOM)
FREEDOM, an initiative led by Novil Wijesekara in Colombo, Sri Lanka, stands as a testament to the vital role of women in fostering dialogue and mediating conflicts. At its core, the project is dedicated to empowering female religious leaders, harnessing their unique perspectives for the greater good. The launch of the FREEDOM project and the subsequent "Policy and Dialogue on Role of Female Religious Leaders in Dialogue and Mediation" event marked a significant milestone, coinciding with International Women's Day on March 8, 2023. This event, held via Zoom, set the stage for a comprehensive exploration of the current efforts of female religious leaders in dialogue and mediation efforts.
Central to the initiative's impact is the FREEDOM Policy Brief, a strategic document that encapsulates the compelling role of female religious leaders can play in driving dialogue and mediation within Sri Lanka. Accessible on their website, this brief serves as a guiding framework for future endeavors. Further reinforcing the campaign's reach, the policy brief was officially launched on March 28 accompanied by a highlight video of the event that captured the essence of the discussions and insights shared.
The FREEDOM initiative extends beyond theoretical frameworks into practical application. The facilitation of visits by women peacebuilders to crucial community sites – such as women and child desks at local police stations, mediation boards within local communities, and the Ministry of Health-run centers for women and children – underpins the project's commitment to ground-level impact. This approach is further amplified through the Training of Trainers program, where 30 participants immerse themselves in dialogue and mediation skills, fostering a cascading effect of expertise.
A pivotal moment in the initiative was the "FREEDOM Symposium" where the gathering witnessed the participation of esteemed figures, including the Hon. Minister of Justice of Sri Lanka, Dr. Wijeyadasa Rajapaksha. Dr. Rajapaksha emphasized the integral role that female religious leaders should play in mediation boards operated by the Mediation Boards Commission.
As the initiative continues to unfold throughout 2023, its imapct will be shared across various platforms, including the Peacemakers Network's Asia Facebook and Twitter pages, as well as the Asia Working Group's newsletter. To join the newsletter, please contact Phil Gassert at philip.gassert@kirkonulkomaanapu.fi.