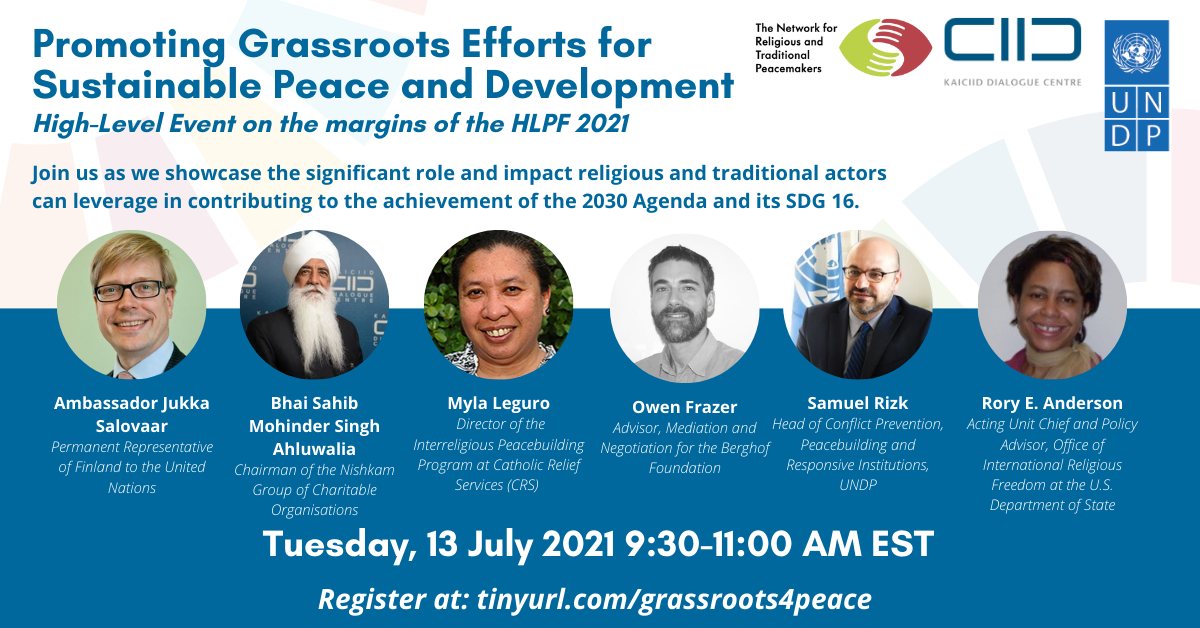 In response to UN Member States' call of further empowering local actors, the Network for Religious and Traditional Peacemakers, KAICIID and the UN Development Programme (UNDP) will conducted a joint event on 13 July to bring together policymakers, UN experts, and local actors from around the world to reflect on the role of faith actors, based off of an inclusive survey, which will be presented during the side-event, and discuss entry points and concrete strategies going forward to advance the 2030 Agenda and SDG 16.
This inclusive online survey, followed by a series of workshop, was to identify the work and efforts of religious and traditional actors, which include women and youth, in the five regions to accelerate the realization of the 2030 Agenda at the national and local level. This includes (1) showcasing the significant role and impact of religious and traditional actors can leverage in contributing to the achievement of the 2030 Agenda and its SDGs, notably SDG 16—peace, justice, and strong institutions, (2) generate new ideas for how the peacebuilding and sustaining peace approach can be better equipped and systematized across the UN and other actors' work and (3) discuss localized solutions and challenges for religious and traditional actors to enhance partnership and advocacy with the UN at the regional, national, and local levels.
A significant portion of the UN system and other intergovernmental organizations operate in contexts and regions where religious and traditional actors play a role in shaping customs, practices, and development work. As such, it's important to understand their efforts and build inclusive multi-stakeholder partnerships.
Historically, religious and traditional actors have long played a vital role in conflict-affected societies and situations of transition due to their established "governance systems," along with their built-in conflict prevention, management, and resolution mechanisms. Moreover, they have provided vital social services to local communities, including humanitarian aid, health, and education alongside the faith-based organization. These actors have established unique connections based on mutual respect and trust with local communities and are equally aligned with the core values raised in the 2030 Agenda and the SDGs. Their relationship and nature of contribution vary based on the context. In some contexts, religious and traditional actors enjoy the highest level of trust, and there is a formal structure recognizing their role. 
However, in many other contexts, their contributions are often not fully acknowledged, and their potential contribution remains underutilized. To this end, greater efforts should be allocated towards mobilizing the capacities and ingenuity of these actors, with inclusivity at the center of the approach. The UN system and its partners must shift from working in silos and adopt a more inclusive and interconnected systematic approach from the bottom-up and top-down, engaging both Track 1, 1.5, and Track 2, which is beyond the current traditional structure.
For any questions or issues registering, please contact Network Membership Coordinator, Rachel Palermo at Rachel.Palermo@kua.fi.