Interreligious Collaboration Situated on the Global Stage at the Congress of Leaders of World and Traditional Religions in Kazakhstan
Religious and traditional leaders from more than 50 countries gathered at the 7th Congress of Leaders of World and Traditional Religions in Kazakhstan from 14-15 September 2022 to advocate and bolster the critical role of religious and traditional actors in supporting sustainable development and peace.
"Today, as never before, it is vital to put to good use the peacemaking potential of religions, to unite the efforts of spiritual authorities in search of long-term stability. All faiths are based on humanistic ideals, recognition of the supreme value of human life, and the aspiration for peace and creation. These fundamental principles must be reflected not only in the spiritual sphere but also in the socio-economic development of states and international politics," expressed Kazakhstan's President Kassym-Jomart Tokayev.
Based on their influence within the community, the Congress situated the role of religious and traditional leaders as effective mechanisms to advance social cohesion while providing a space for the leaders to engage in dialogue with top policymakers in efforts to increase engagement and collaboration opportunities at all levels of society.
To reaffirm the role and capacity of religious and traditional actors, prominent global religious leaders, including Pope Francis, Pope of the Vatican, and His Eminence The Grand Imam, Dr. Ahmed Al-Tayeb, Sheikh of Al-Azhar Al-Sharif, Israel's Ashkenazi Chief Rabbi David Lau and other high-ranking world religious leaders called for global support to spiritual and social development in the post-Covid 19 periods, based on the collaborative role of religions in promoting the values ​​of tolerance and coexistence.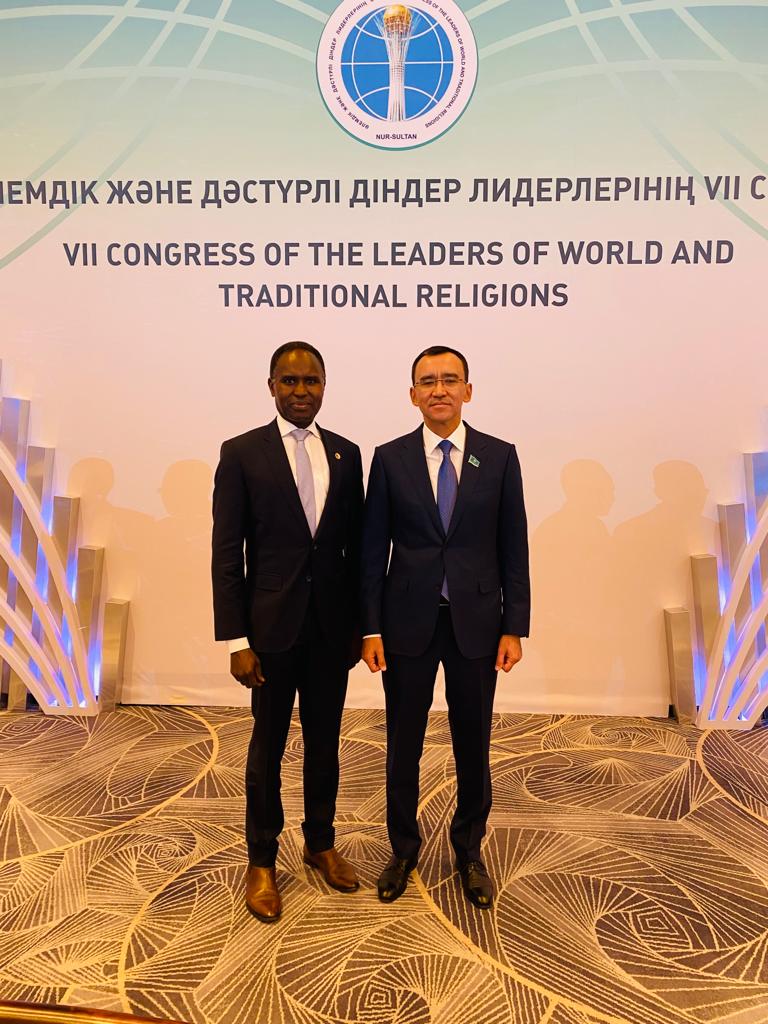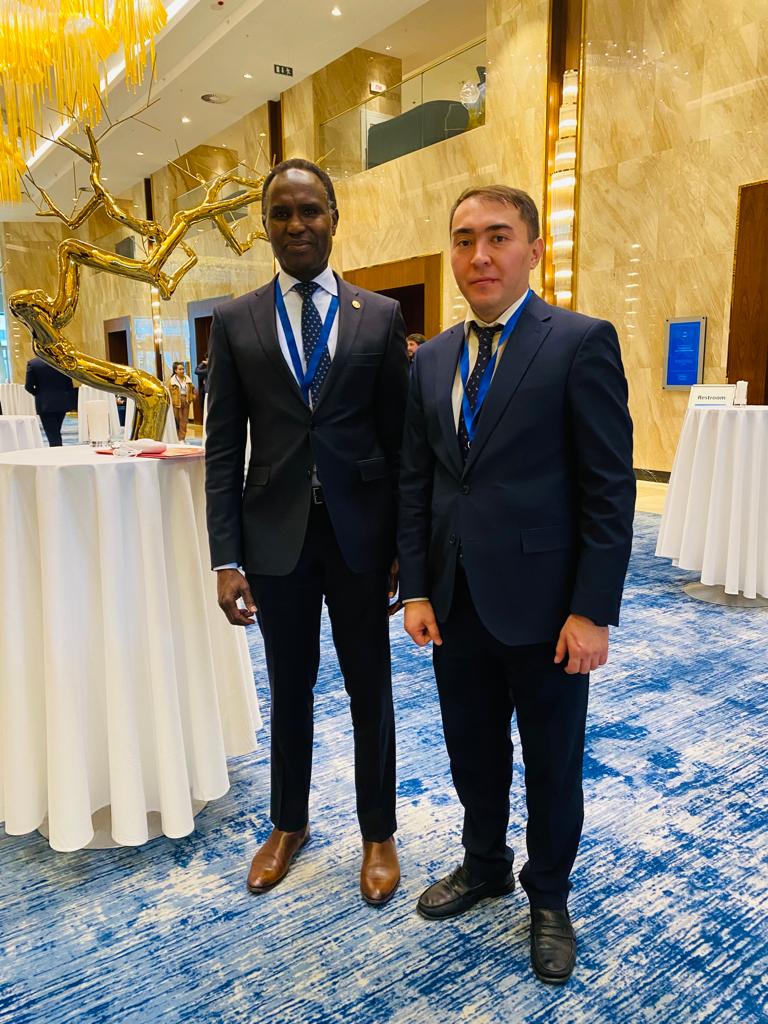 [From left to right/top to bottom] Dr. Mohamed Elsanousi, Executive Director of The Network for Religious and Traditional Peacemakers, met with the Chairman of Senate and the Deputy Director of the Nazarbayev Center.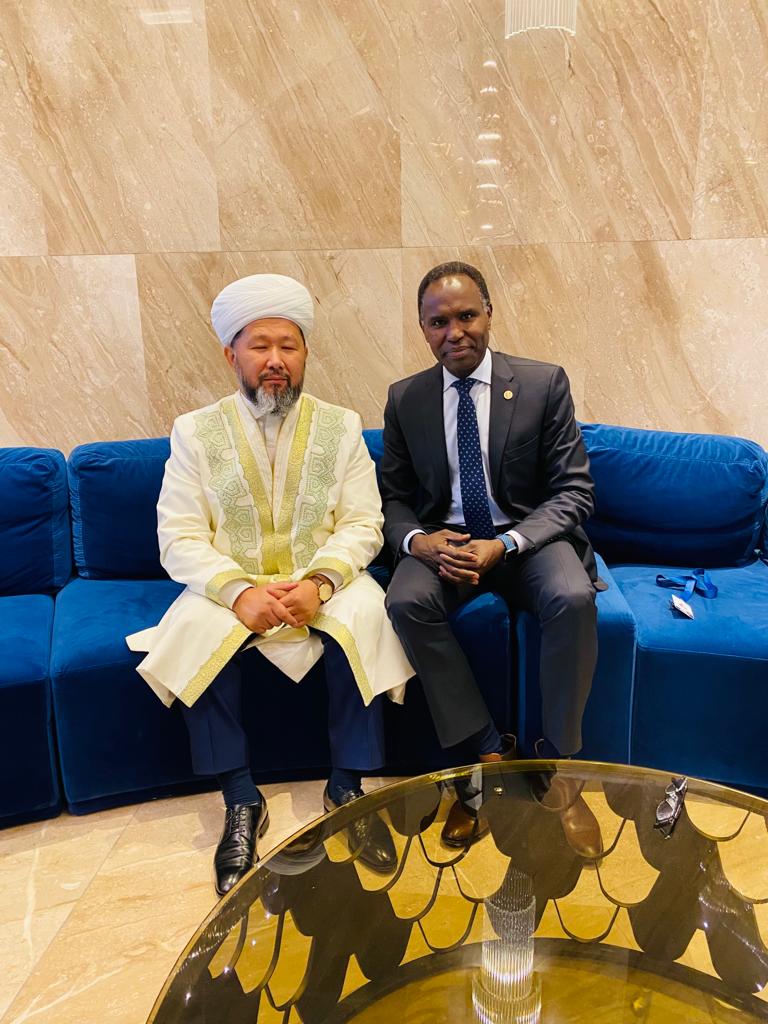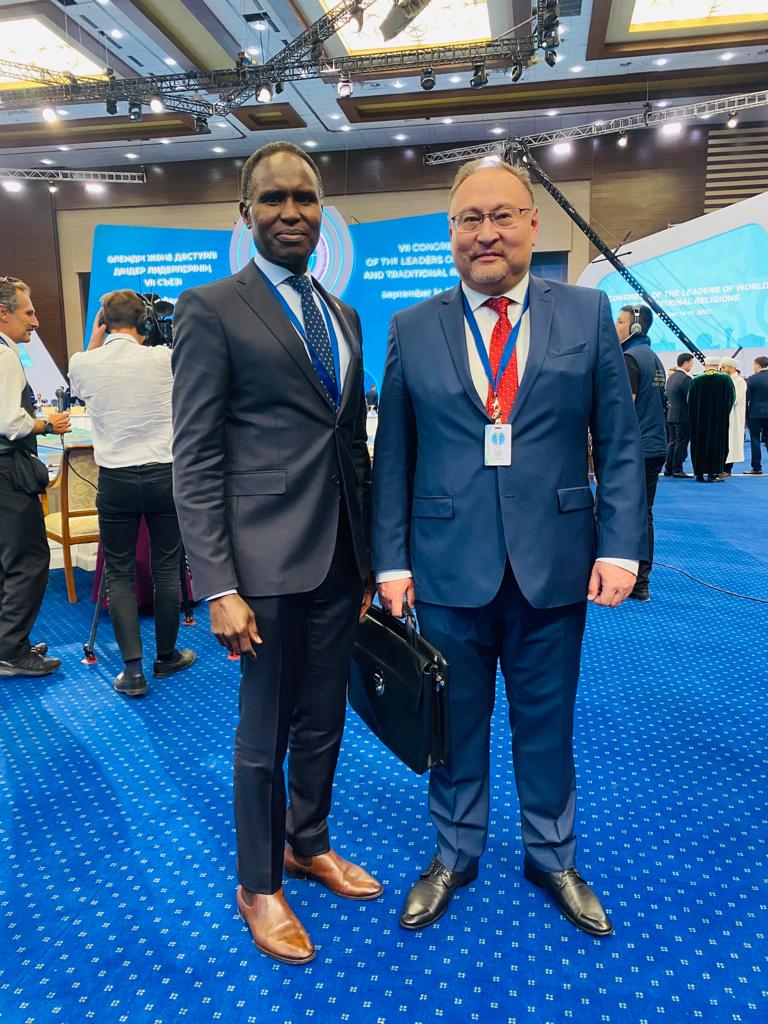 [From left to right/top to bottom] Dr. Mohamed Elsanousi the Mufti of Kazakhistan and the Deputy Foreign Minister of Kazakhstan
The presence of top global religious leaders signifies to the media and the global community the vital importance these actors can have in advancing social cohesion. Pope Francis, who has made interfaith engagement a theme of his papacy, reaffirmed the critical value of interfaith dialogue, noting that religion is not a destabilizing factor, but rather a unifying factor for all. He called for greater interfaith efforts to combat war, administer COVID-19 vaccines, and fight climate change and other issues impacting the global community.  He noted that "interfaith events such as the Congress are, more valuable than ever in challenging times like our own when the problems of the pandemic have been compounded by the utter folly of war."
Network Executive Director, Dr. Mohamed Elsanousi, alongside several Network members and supporters, including the United Nations Alliance of Civilizations and Religions for Peace, encouraged interreligious dialogue and inclusive collaboration for sustainable peace.
Moderated by Religions for Peace Secretary General, Dr. Azza Karam, Dr. Elsanousi joined religious actors for a conversation on "The Contribution of Religious Leaders and Politicians to the Promotion of Global Inter-Religious Dialogue and Peace, Countering Extremism, Radicalism and Terrorism." 
"We need innovative ideas, innovative leadership, and innovative partnerships at all levels of society to be able to effectively address these challenges," emphasized Elsanousi.  "We must focus on the critical and influential role of religious communities in countering violent extremism."
Elsanousi continued to exemplify successful collaboration models between policymakers and religious communities. For example, supported by the Muslim Public Affairs Council, the "Safe Space Initiative" relies on community-led and community-driven programs for CVE and strengthening social cohesion.  The approach views that: a person's path to violence is unique, gradual, and involves many factors, and the path to violence can be slowed, stopped, reversed, and/or prevented with proper community support to parents, siblings, friends, and mentors. Therefore, the model focuses on two approaches – prevention and intervention and was designed to be contextualized to other situations outside of violent extremism.
One of the goals of the congress is to reintroduce the language of reconciliation and peace to a world embedded in conflict while also amplifying the role of religious communities to serve as an effective messengers of peace.  The final declaration of the Congress calls upon world leaders to abandon all rhetoric that leads to community destabilization, emphasizing, "extremism, radicalism, terrorism and all other forms of violence and wars, whatever their goals, have nothing to do with true religion and must be rejected in the strongest possible terms."
The principles contained in the Declaration will be disseminated at all regional and international levels, for consideration in all political decisions, legislative norms, educational programs, and mass media in all interested countries.