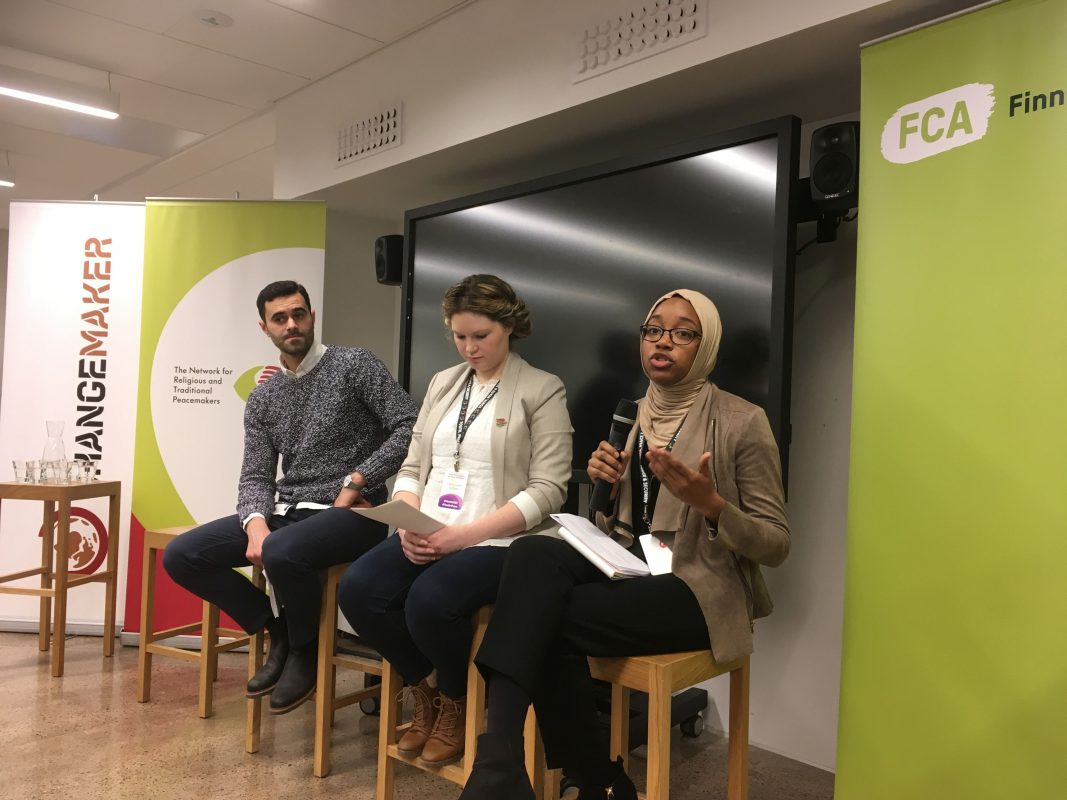 The Network for Religious and Traditional Peacemakers, along with Finn Church Aid and Changemaker Youth Network, organized a focused discussion to bring together over 30 youth  on the role of young people in peacebuilding and preventing violent extremism (PVE). During the event, youth had the opportunity to share ideas and experiences with their international counter-parts as well as listen to, and network with, topic experts. This peer-to-peer engagement event coincided with the high-level Helsinki meeting on Youth, Peace and Security on 6 March.
Currently, the prominent perception in PVE policy-making sphere negatively focuses on youth, with male youth associated as perpetrators of violent extremism and young women as victims of the same. The fact that many recruits and perpetrators are youth, has lead policy discussions on violent extremism to be focused on youth actors. While there is a negative connotation regarding the topic, global evidence has highlighted that young people can play key roles at preventing conflict and building and sustaining peace, whether at the local, national or global levels yet. However, youth efforts continue to lack adequate support and recognition.
The call to create meaningful participation in youth, as outlined in United Nations Security Resolution 2250, was exemplified during a panel discussion that evening featuring young peacemakers from Nigeria, Northern Ireland and Finland; each shared their experience in building peace and preventing violent extremism in their respective communities. This panel provided a platform for youth to share their existing good practices in engagement and participation as well as to discuss barriers encountered in developing their initiatives with their counterparts.
Panelists Claire-Louise Tuner, Yassine Yousfi and Ramatu Jaki are all seeking to bring peace and security through an inclusive-based community approach. In Northern Ireland, Turner aims to change harmful stereotypes of local groups through the promotion of diversity through music, arts and dance. Throughout Finland, Yousfi works to provide comprehensive services to vulnerable young people while working with local and national authorities on PVE. Within Nigeria, Jaki utilizes an inclusive community-based approach by offering activities and services, including psychosocial support, to the community.
All speakers highlighted the importance of partnerships between youth, civil society and authorities as a way to address the issues of marginalisation and exclusion, as well as their impacts.
Finland is currently one of the leading countries promoting youth participation in PVE. Finland's approach has been recognized and promoted by the international community within the United Nations and European Union. Finland is currently developing a National Action Plan surrounding UN resolution 2250 through a youth-led process.
25 March 2019