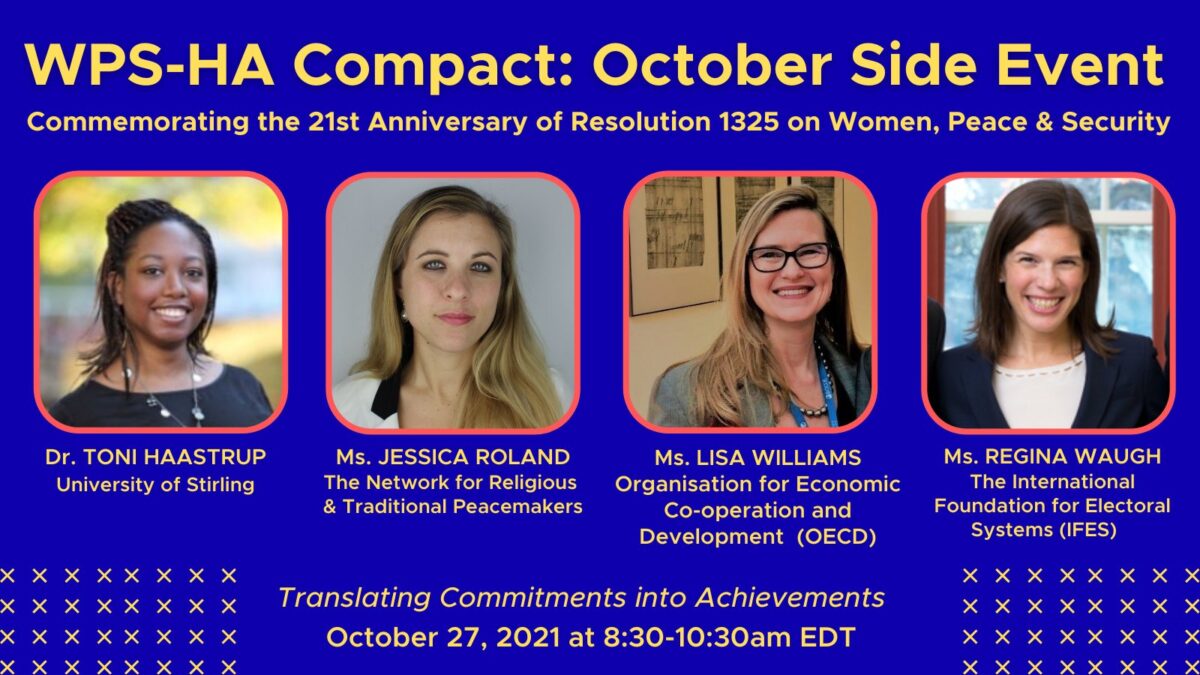 As a result of joining the Women, Peace and Security and Humanitarian Compact, the Network has been asked to speak upon its bold commitment in advancing gender equality on October 27 on the sidelines of the 21st anniversary of the UN Security Council Resolution 1325 on WPS. Click here to register.
Network Senior Specialist on Inclusive Peace, Ms. Jessica Roland, will join other stakeholders on the need to take transformative steps around peace and security and humanitarian action for women and girls.  The event will also feature representatives from UN Member States, UN appointees and personnel, grassroots women and youth peacebuilders and representatives of the Compact Board.
This event is co-sponsored by the Permanent Missions of Mexico, Norway, and Sierra Leone to the UN, the African Union – Permanent Observer Mission to the UN, the Global Network of Women Peacebuilders, and UN Women.
What is the Compact?
The Compact on Women, Peace, and Security and Humanitarian Action (WPS-HA), a multi- stakeholder initiative comprised of Member States, UN entities, regional organizations, civil society, private sector, academic and research institutionsand foundations, presents a unique opportunity to address the challenges local women and youth peacebuilders and humanitarian workers face. It can contribute to increasing political support to local women and youth peacebuilders and humanitarian actors. It can promote coordination, strengthen accountability, mobilize funding, and accelerate the implementation of the Women, Peace, and Security (WPS) agenda and gender equality in humanitarian action. The Compact seeks to drive a global movement for implementation of existing commitments on Women, Peace and Security and gender equality in Humanitarian Action.
What did the Network Commit?
The Network acknowledges the overwhelming gap in funding allocated specifically for women, youth and other feminist-led or focused organizations focused on peacemaking and broader peacebuilding processes.
Therefore, in response to this gap and in line with the Generation Equality Forum commitments under the Women, Peace and Security and Humanitarian Compact, the Network for Religious and Traditional Peacemakers has committed to transforming its funding approach within the next five years to focus specifically on increasing direct and flexible funding and resources for women, youth, and feminist-led and focused organizations by tenfold through integrating new and scaled funds into our ongoing consortia project budgets. Click here to learn more
The 151 Compact signatories – with more signatories joining – are investing in nearly 1000 combined Compact Framework actions on financing, women's and young women's participation in peace processes, women's economic security, and protection and promotion of women's human rights. As complex crises continue to evolve globally, it is more urgent than ever that the transformative potential of the WPS-HA Compact is realized.