Celebrating a Decade of Peacebuilding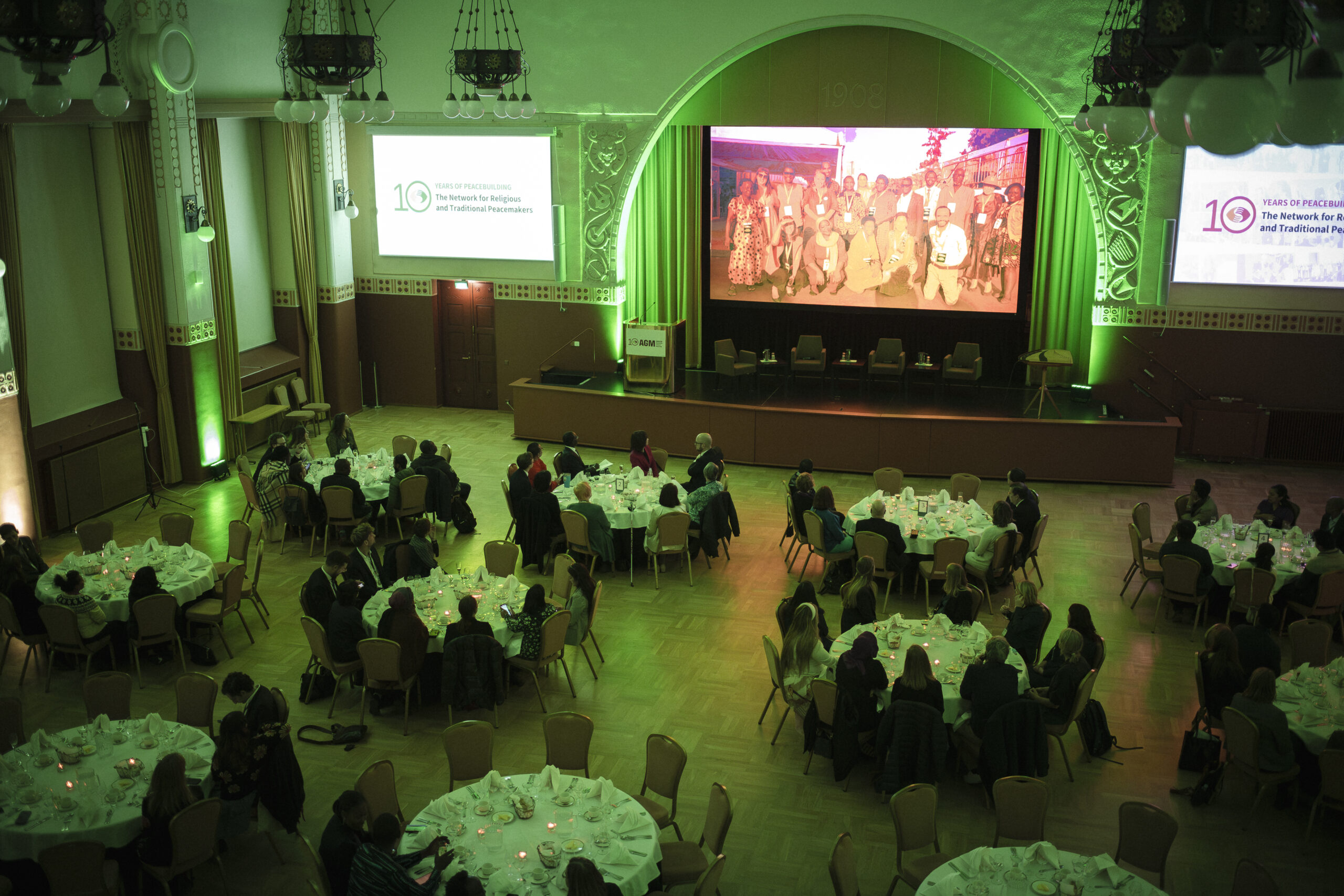 Within a decade of working with religious and traditional actors to prevent violent conflict and build peaceful societies, the Peacemakers Network celebrated a tremendous milestone reaching its 10th Anniversary, where commemorations were held in Helsinki with over 100 of its members and supporters as well as representatives of the Governments of Finland, Oman, Kazakhstan and the United States, as well as from the United Nations.
Over the past 10 years, the Network has collaborated with governments and multilateral institutions to engage religious and traditional actors within all policy and programming, supported numerous consultations and the development of Plans of Actions at the United Nation. Additionally, the Network has developed over 50 research publications and policy briefs, all informed through the valuable input of our members trained over 500 grassroots actors and UN officials on the intersection of religion and mediation, and engaged with its members and broader grassroots communities through several consortia projects around the world.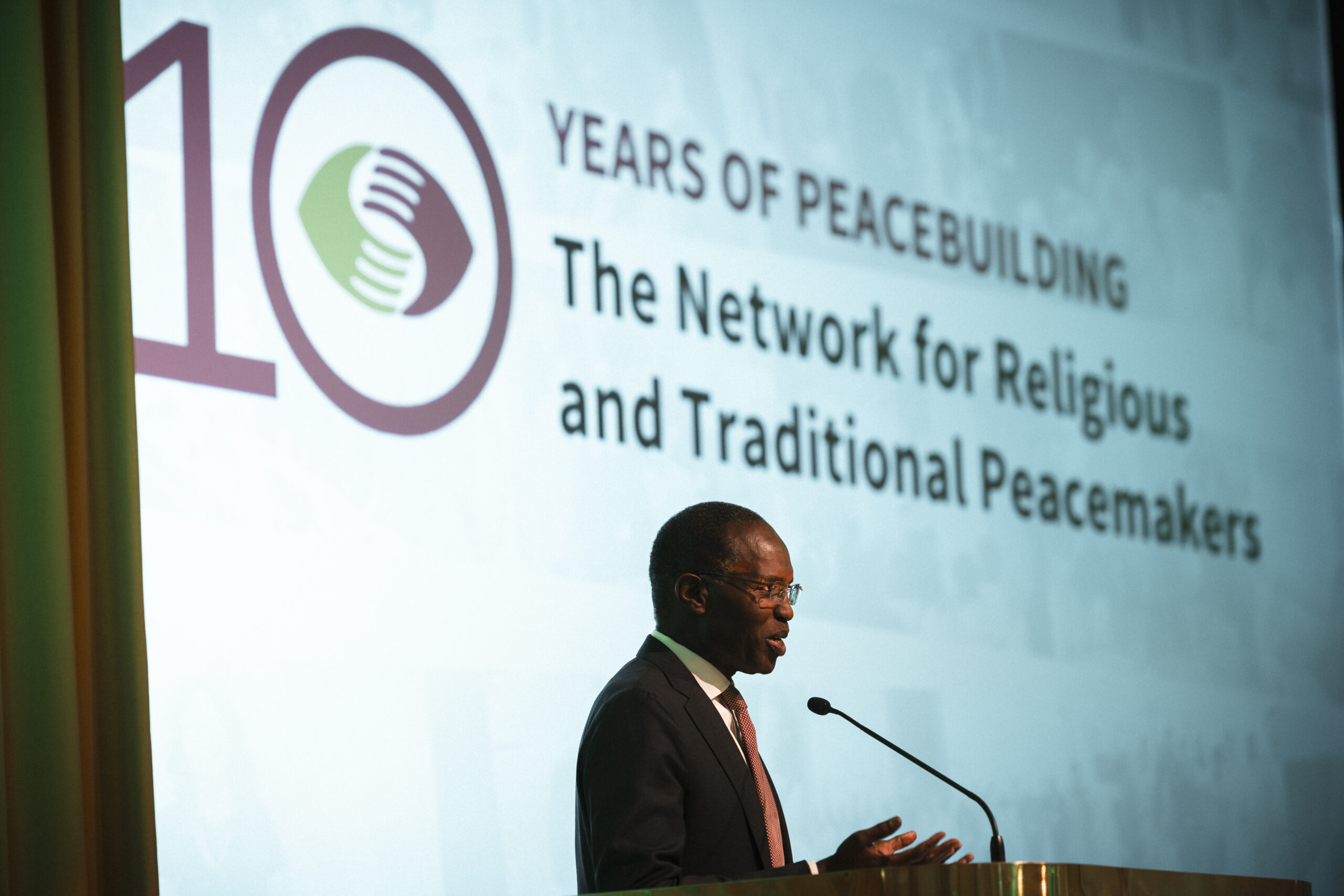 Dr. Mohamed Elsanousi shares opening remarks during Thurday's 10-Year celebration.
"Together, we have continued to express our gratitude for the safe spaces we have created to delve into challenging topics and seek actions that can bring sustainable change to communities impacted by conflict and instability," emphasized Dr. Mohamed Elsanousi, Executive Director of the Peacemakers Network.
The Peacemakers Network was formed in 2013 in response to UN Secretary-General Ban Ki-moon's report titled "Strengthening the role of mediation in the peaceful settlement of disputes, conflict prevention and resolution." The Ministry of Foreign Affairs Finland, the United Nations Mediation Support Unit and Finn Church Aid provided a leading role in the conceptualization and operationalization of the peacebuilding organization.
The evening's program included remarks from several distinguished speakers: Mr. Lauri Tierala, State Secretary to the Ministry for Foreign Affairs Finland; Ms. Tarja Kantola, Chair of Finn Church Aid Board of Directors; and video remarks from H.E. Dr. Mohammed Al Mamari, Minister of Endowments and Religious Affairs in the Sultanate of Oman, as well as Ms. Alice Nderitu, Special Adviser on the Prevention of Genocide at the United Nations.
"During the past decade, the Network has become a major platform for actors and a tool in peace building and peace mediation. Partnerships have been at the core of the Network's work since its establishment [and] we are proud to be a part of this common action of work towards sustainable, peaceful and inclusive societies. This reflects well also Finland's overall approach to peace mediation, conflict prevention, and conflict resolution. We highly appreciate the Network's interrelation to the human rights and inclusivity at the heart of their work [as] the contributions of religious and traditional actors in peacebuilding continues to be highly relevant," stated Mr. Lauri Tierala.
Former President of Finland, H.E. Tarja Halonen offered keynote remarks, highlighting the critical role of the Network since its inception. "The Network for Religious and Traditional Peacemakers is another example of how we can support a whole of society appraoch. The Peacemakers Network has been pivotal in convening religious and traditional actors with governments and multilateral bolster interfaith engagement," remarked H.E. Halonen. Furthermore, she reiterated the need to ensure meaningful that women and youth have within peacebuilding and broader peace mediation.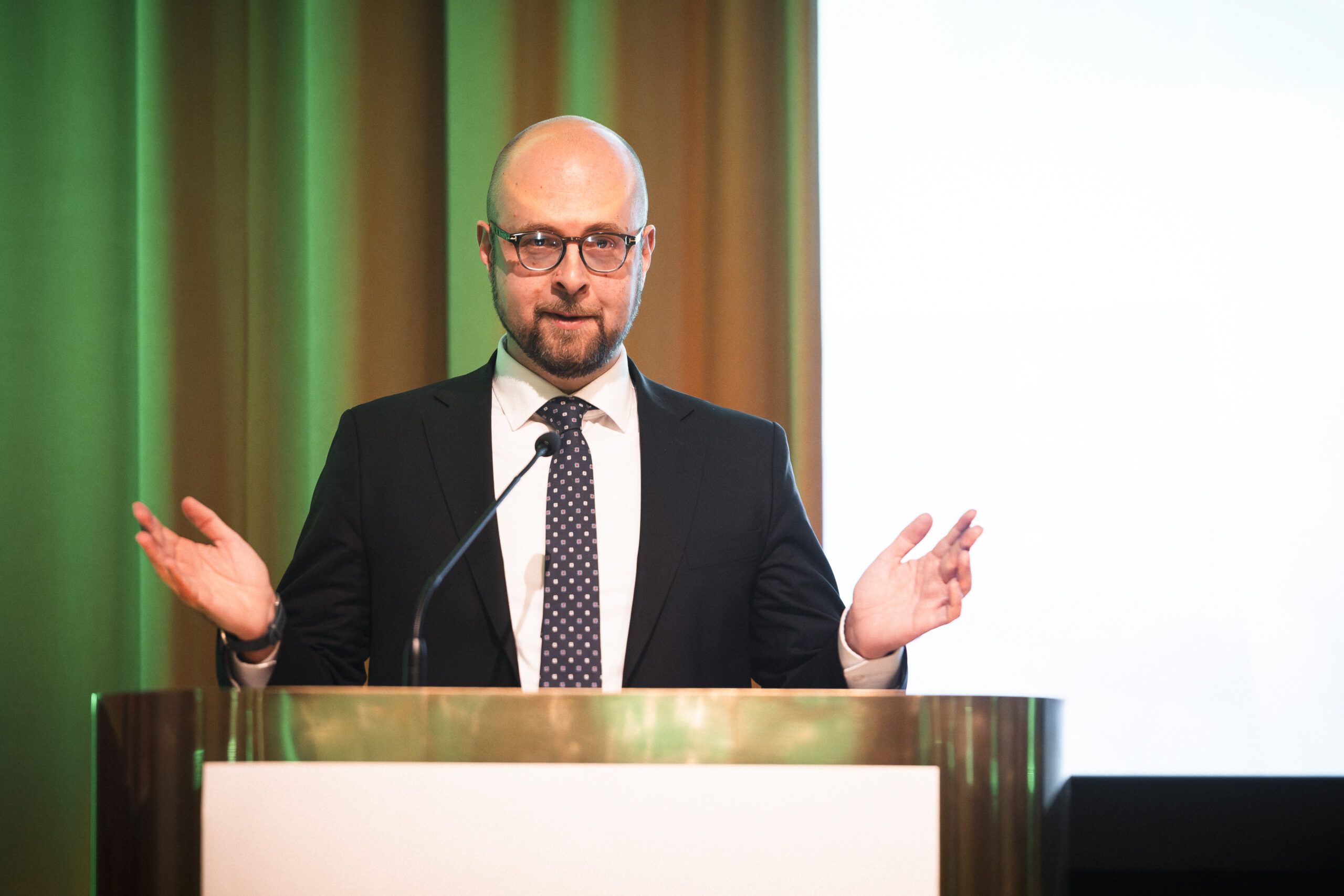 Lauri Tierala, State Secretary of Ministry of Foreign Affairs Finland sharing remarks at 10-Year Celebration.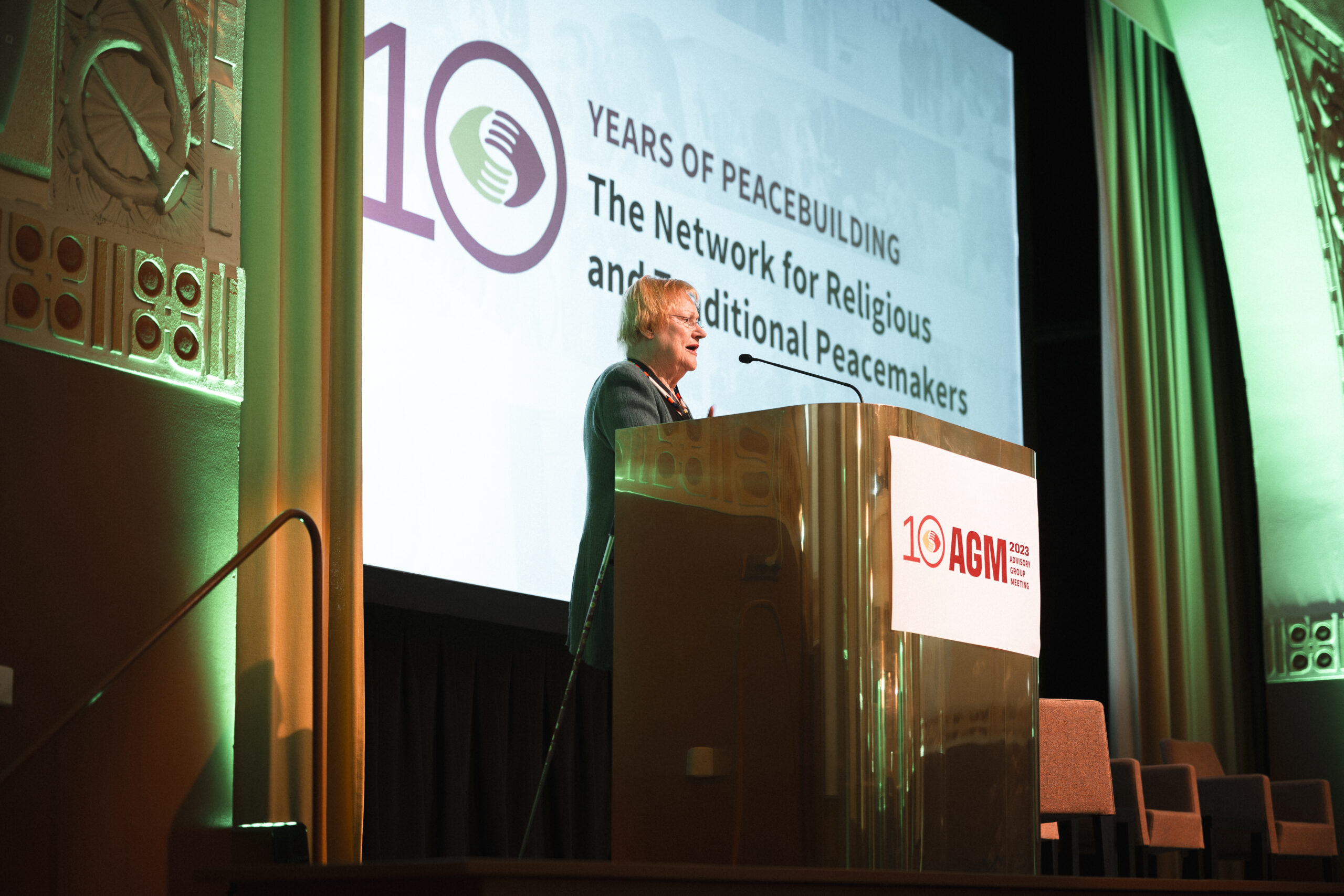 Former President of Finland, H.E. Tarja Halonen sharing remarks at the 10-Year Celebration.
The evening then engaged in a fireside chat that explored the role of religious and traditional actors in countering mis and disinformation featuring Mikko Koivumaa, Director General of Communications at the MFA and Dr. Katariina Mustasilta, Senior Research Fellow at the Finnish Institue for International Affairs, with moderation by award winning Finnish Journalist, Liselott Lindström.
Disinformation's role in conflict escalation is evolving rapidly, driven by increasing innovation and global connections, impacting conflicts like those in Israel and Palestine, Ukraine, Sudan and Myanmar. Disinformation is gaining prominence within in foreign affairs, particularly in regard to Russia. Suggestions to mitigate disinformation's impact include promoting education, media literacy, and being mindful of their own biases, thus, the very need to engage traditional and religious actors to foster common values and educating communities in the local context.
The Peacemakers Network recognizes the continued support of its members and supporters, enabling its successful growth within the past years, including the formalization of the membership to 108 organizations. The Peacemakers Network eagerly anticipates collaborating collectively with its members, supporters and partners in working together to improve the lives of the communities it serves over the next decade.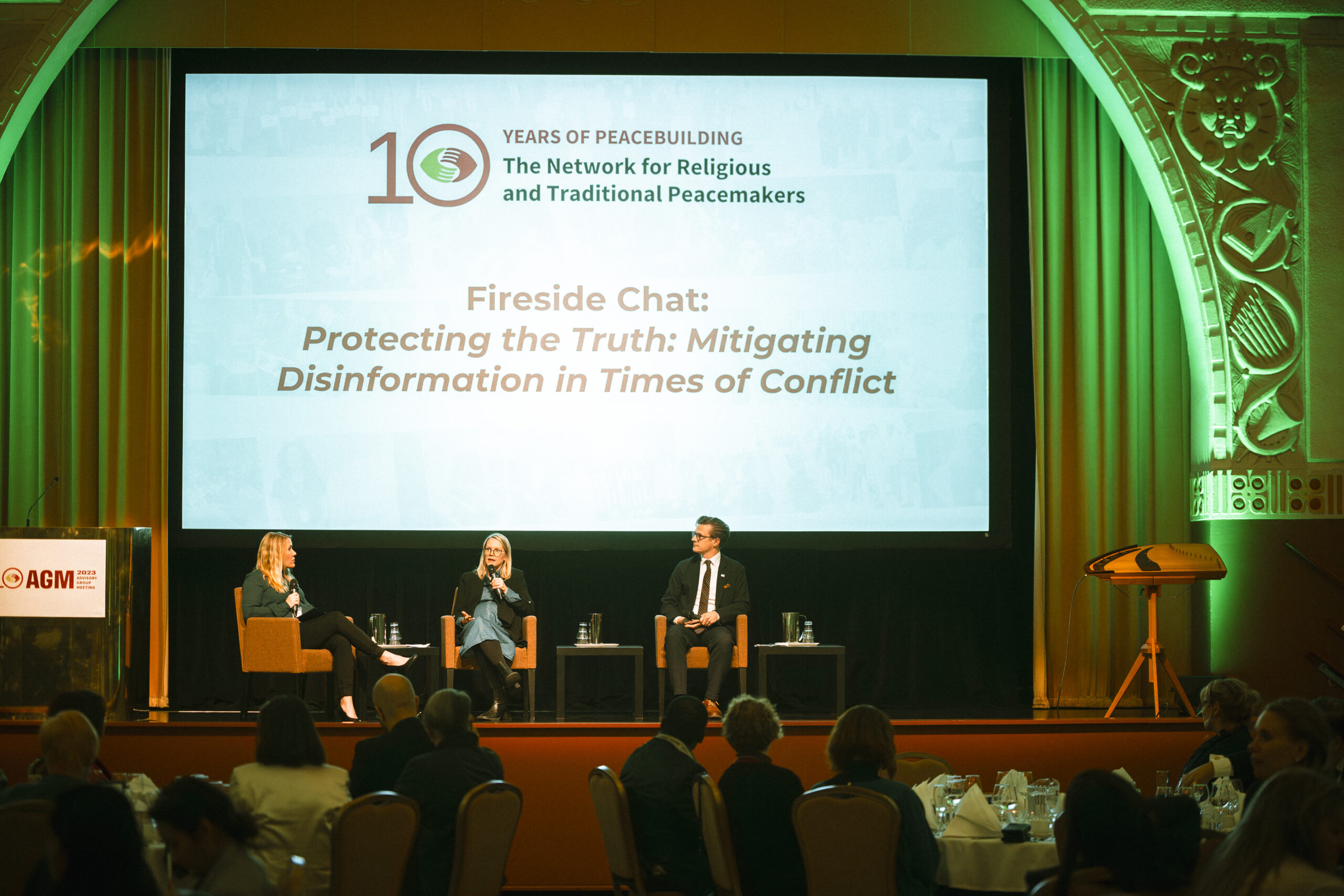 Fireside chat on Protecting the Truth: Mitigating Disinformation in Times of Conflict. Speakers from left to right: Liselott Lindström, Dr. Katariina Mustailta, and Mikko Koivumaa.