Psychosocial Support Training for Faith Communities in Colombia
As part of the United States Institute of Peace's (USIP) Religious and Psychosocial Support for Displaced Trauma Survivors project, a three-day training for faith leaders from conflict-affected areas of Colombia was hosted in partnership by USIP, the Network for Religious and Traditional Peacemakers, Paz y Esperanza and Beyond Conflict.
More than 50 years of armed conflict, political exclusion, and social inequity have left over 6 million people internally displaced within Colombia. Further, recent data suggest that 1.7 million Venezuelan migrants currently reside in Colombia.
In the absence of widely available mental health services, faith communities have served as a frontline source of support for persons who have experienced trauma and displacement.
​​Although research shows religious and cultural practices and counsel can provide critical sources of resilience for displaced populations, religious actors may be under-informed on the latest evidence-based scientific research about the effects of trauma, the particular needs of those who have experienced trauma, and best practices in trauma healing.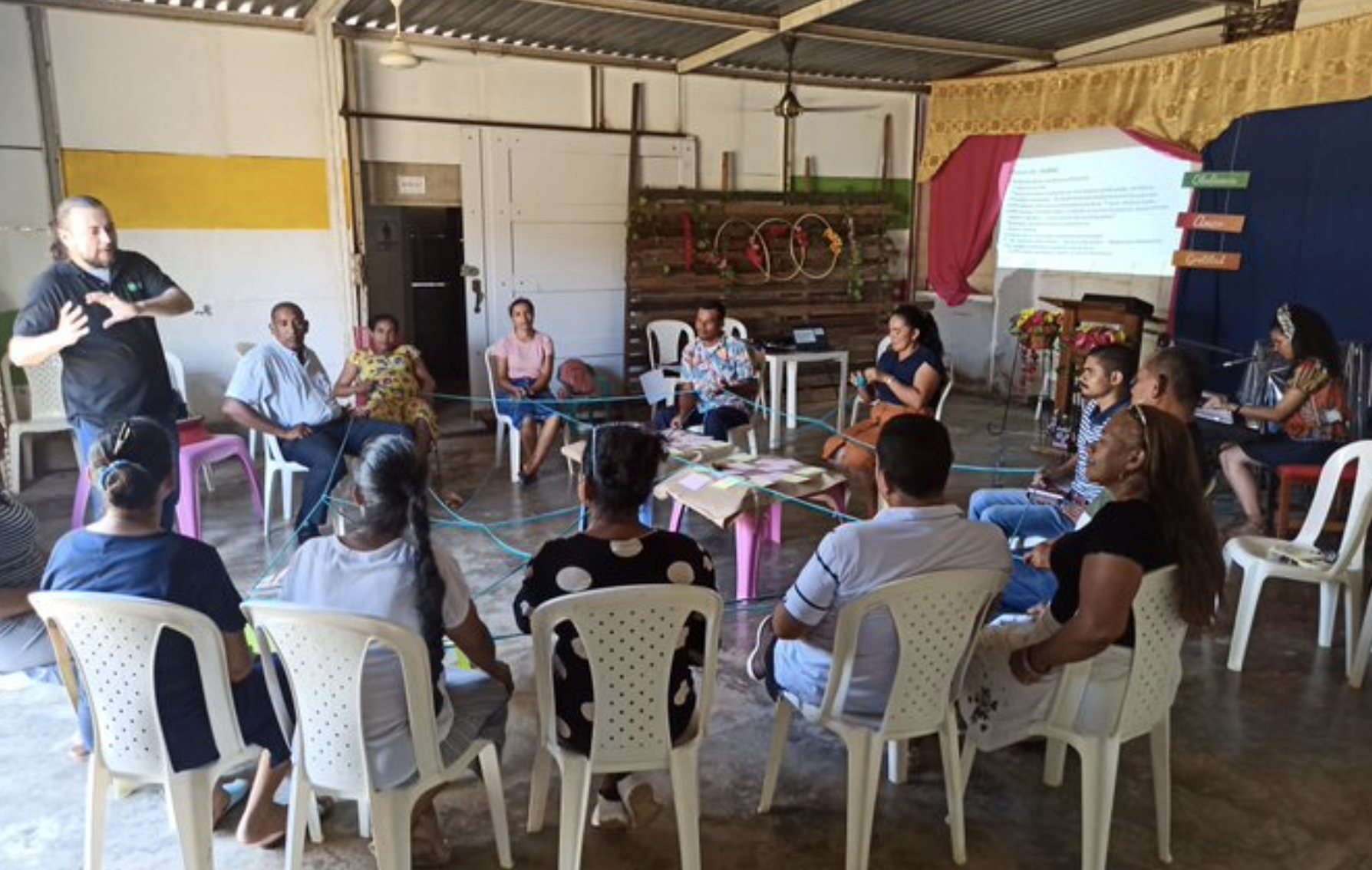 Participants practice a group exercise to cultivate resilience, a sense of belonging, and post-traumatic growth.
The goal of this training was to strengthen the efforts of faith actors and faith communities in providing psychosocial support to displaced trauma survivors, by equipping them with basic knowledge of the biological and psychological processes associated with the experience of forced displacement, as well as practical mind-body exercises for cultivating resilience, a sense of belonging, and post-traumatic growth.
Over 25 participants, from conflict-affected areas of Colombia, received psychoeducation training based on the Field Guide to Barefoot Psychology and learned about reactions to stress, violence, and trauma. Following the training, participants returned to their hometowns to replicate the training for members of their local communities.
Since spring 2021, the Network has been providing guidance and support to its member, the U.S. Institute of Peace (USIP) to identify best practices in psychosocial support to better facilitate collaboration and cooperation between religious actors and mental health professionals who provide services to conflict-affected communities — including trauma-affected displaced persons in Colombia and Venezuela.
On Tuesday, August 2nd, 2022, USIP concluded the pilot project with a roundtable discussion to share the final findings of the research and to explore evidence-based recommendations for better policy and practice to support more effective mental health and psychosocial support by fostering the collaboration between religious communities and mental health professionals.
The discussion highlighted key takeaways and lessons learned from the project, including the need for further training for both religious actors and mental health professionals, and strategies to facilitate better communication and collaboration between these actors.