Tradition and Faith-Oriented Insider Mediators
Tradition- and faith-oriented insider mediators or TFIMs constructively manifest tradition and faith in their peace mediation efforts. Intrinsic to a conflict context, they work from the inside to create the space and opportunity for transforming conflict. They are able to do so due to their respected position and legitimacy in society, inside knowledge, personal relationships with the community, and their commitment to engendering peaceful coexistence.
Who are TFIMs and why are they important?
Tradition- and faith-oriented insider mediators are traditional and religious authorities or leaders, and civil society actors, who incorporate traditional and religious elements in their conflict transformation efforts. A TFIM may draw tools and inspiration from multiple faiths, cultures, and traditions, as well as from non-religious and non-traditional values.
As national and internal actors, TFIMs often work behind the scenes and use their influence to constructively transform the behavior and relationships of conflict actors. Using facilitation, dialogue, and mediation, TFIMs are able to work horizontally and vertically, formally and informally, at local, regional, and national levels.
Examples of TFIMs include individuals who represent religious institutions, such as bishops, muftis, abbots, and rabbis, and spiritual or traditional leaders with authority or influence at an international, national, or local level. TFIMs also include tradition- and faith-oriented community and civil society actors and entities, such as NGOs and FBOs.
The strength of TFIMs lies in their dual position as both representatives of the grassroots level as well as an authority with the ability to participate in national and international discussions. The unique position and the inbound trust of TFIMs often give them more legitimacy than other actors (e.g. national or international political actors) to mediate conflict. Due to their position and ability to encourage and engender conflict transformation from within communities, TFIMs have the possibility of taking transformative roles in peacebuilding and conflict resolution.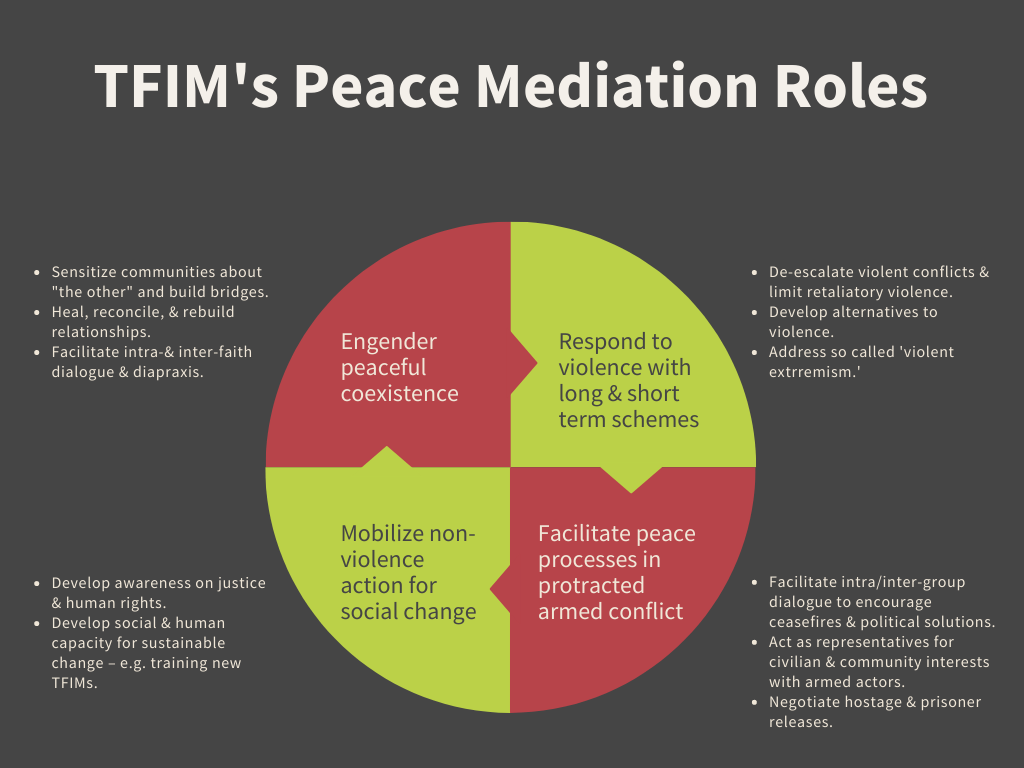 Does the inclusion of TFIMs in conflict resolution mean that the conflict is about religion?
The fact that a TFIM takes a role in peacebuilding does not mean that a conflict is based on religious disputes. Faith, spirituality, and tradition can exist without being rooted in religion, and TFIMs may not necessarily draw on one particular religion or tradition in their mediating tools.
TFIMs can influence people's opinions and perceptions by re-humanizing the 'other' on the basis of traditional and religious values such as justice for all, forgiveness, harmony, and human dignity. TFIMs often constructively challenge and address blind spots of predominant religious and traditional practices and succeed in evoking paradigm shifts in people's attitudes and behavior. The approaches to mediation adopted by religious peacemakers are thus not necessarily 'religious', but often more similar to 'secular' approaches used by other kinds of peacemakers.
To add to peacebuilding efforts, TFIMs may also serve as 'indirect connectors', facilitating the involvement of neutral outsider mediators in cases where they themselves lack sufficient trust and credibility among conflict actors. Supporting the capacity of TFIMs creates the possibility of using faith- and tradition-based tools in order to build sustainable peace.
A Network for Faith-Based Mediators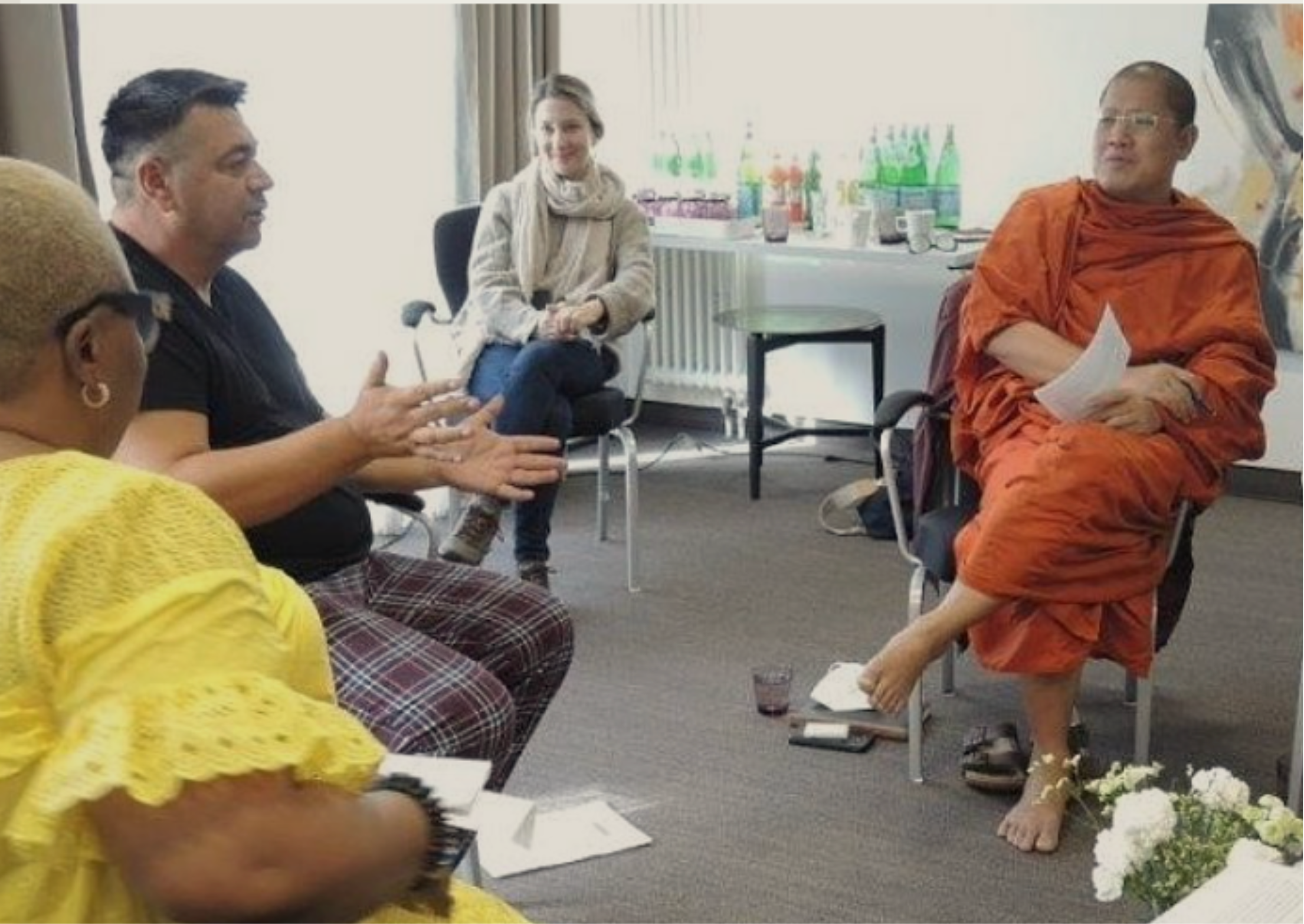 Religious peacemakers often play a critical role in conflict transformation processes in many countries. In this project, in cooperation with the Network for Religious and Traditional Peacemakers, Berghof Foundation and supported by the German Federal Foreign Office, we establish the Network of Faith-Based Mediators (NFM), by accompanying and building the capacity of a group of nine faith-based mediators. The participants of the network were chosen in close collaboration with the German Federal Foreign Office, Peacemakers Network, and the Berghof Foundation. Within the network, the faith-based mediators exchange experiences and methods (peer-to-peer learning), thereby strengthening their work in local and regional mediation processes. The project also aims to develop and support concrete mediation support activities and provide faith-based mediation support beyond these contexts.
How to support and strengthen traditional and faith-oriented insider mediators
The first step in supporting and strengthening the work of TFIMs is to recognize the work done by TFIMs. To add to this, it is important to expand and strengthen the role of female and young TFIMs and to provide opportunities for learning and knowledge gathering both within the local context as well as at the international level.
As a first step, we welcome you to have a look at our resources below.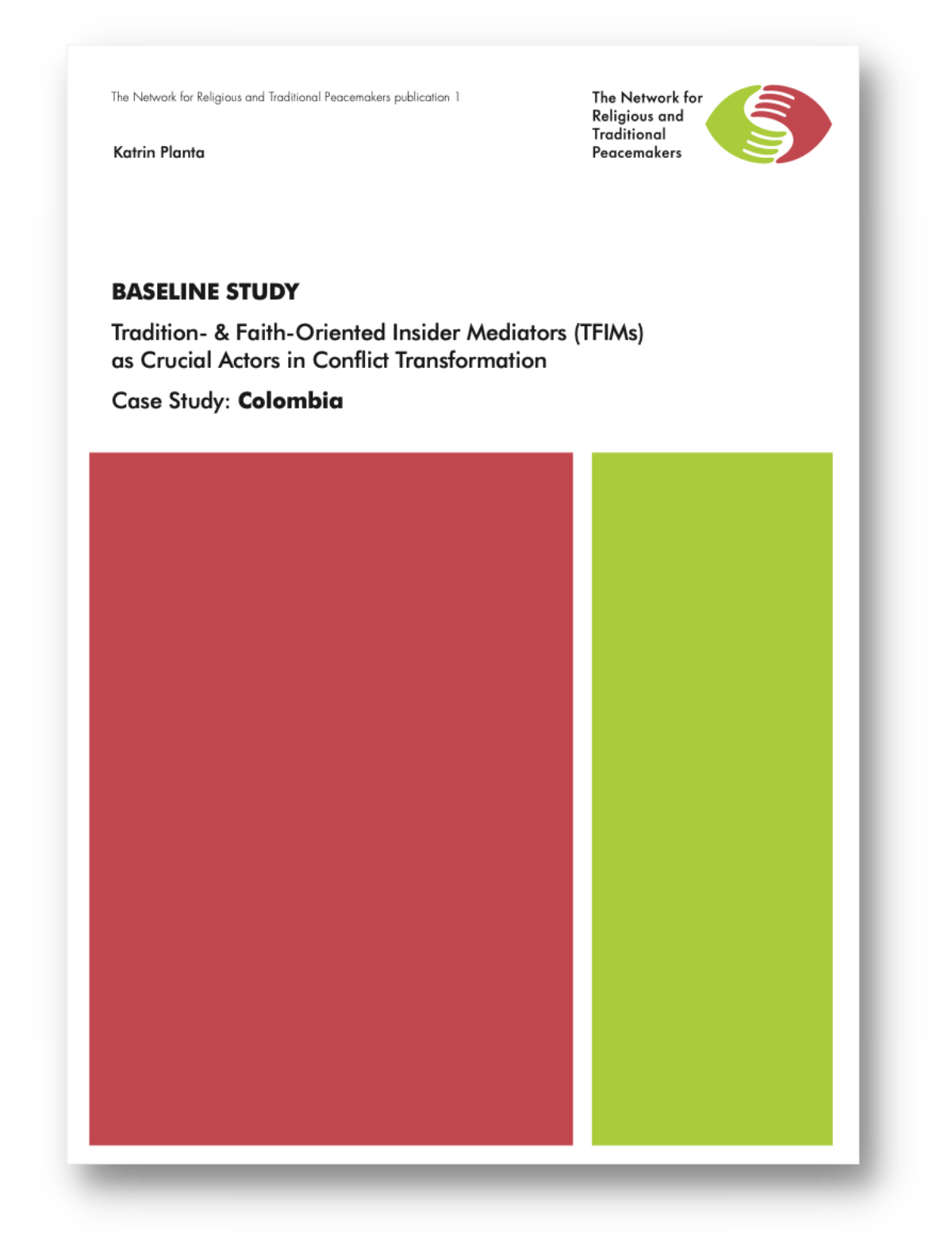 On account of its history of armed conflict, Colombia has had an extremely rich and varied experience of mediation at different levels (local, regional, national), for different purposes (humanitarian, social, political), under different formats (formal, informal), and between different actors. As 80% of the population belongs to the Roman Catholic Church and 15-20% belong to Protestant churches, religious or faith-based actors play a prominent role in both conflicts as well as their resolution processes. The case study explores the approaches, successes, challenges, and opportunities of TFIMs in Colombia.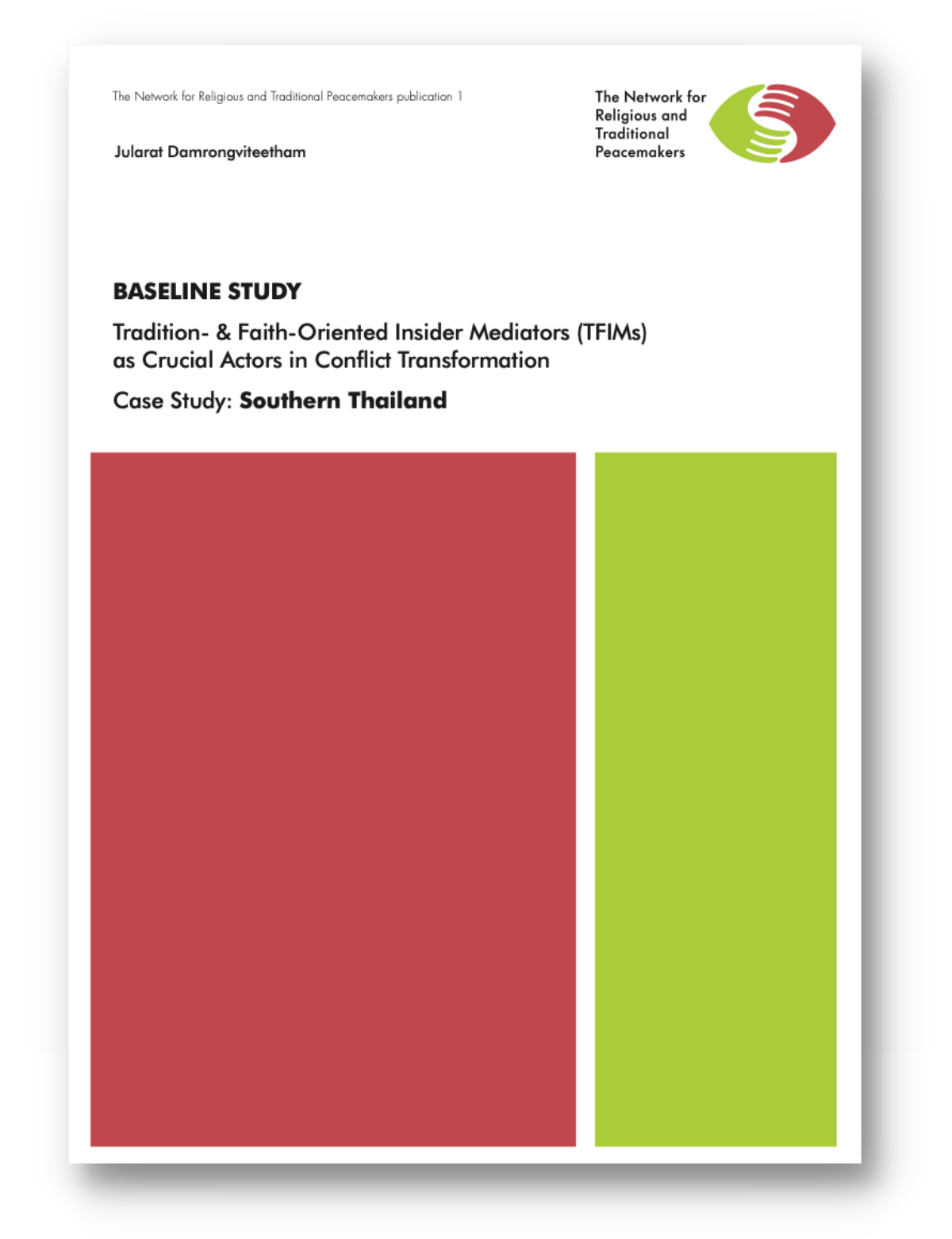 The conflict in Southern Thailand is not about religion; it is essentially about ethnic identity. Nevertheless, one of the root causes for the conflict is perceived to be the misuse of religion to create violence. 11 years of deadly conflict in the southern border provinces of Thailand have left more than 6,000 people killed and around 11,000 wounded. While the majority of those killed have been Malay Muslims, the majority of the injured have been Thai-Buddhists. Tit-for-tat tactics are occasionally applied by both ethnicities. In such an environment, the role of tradition- and faith-oriented insider mediators in resolving the violent conflict is amplified. The following overview is a study of the role of TFIMs in the conflict in Southern Thailand.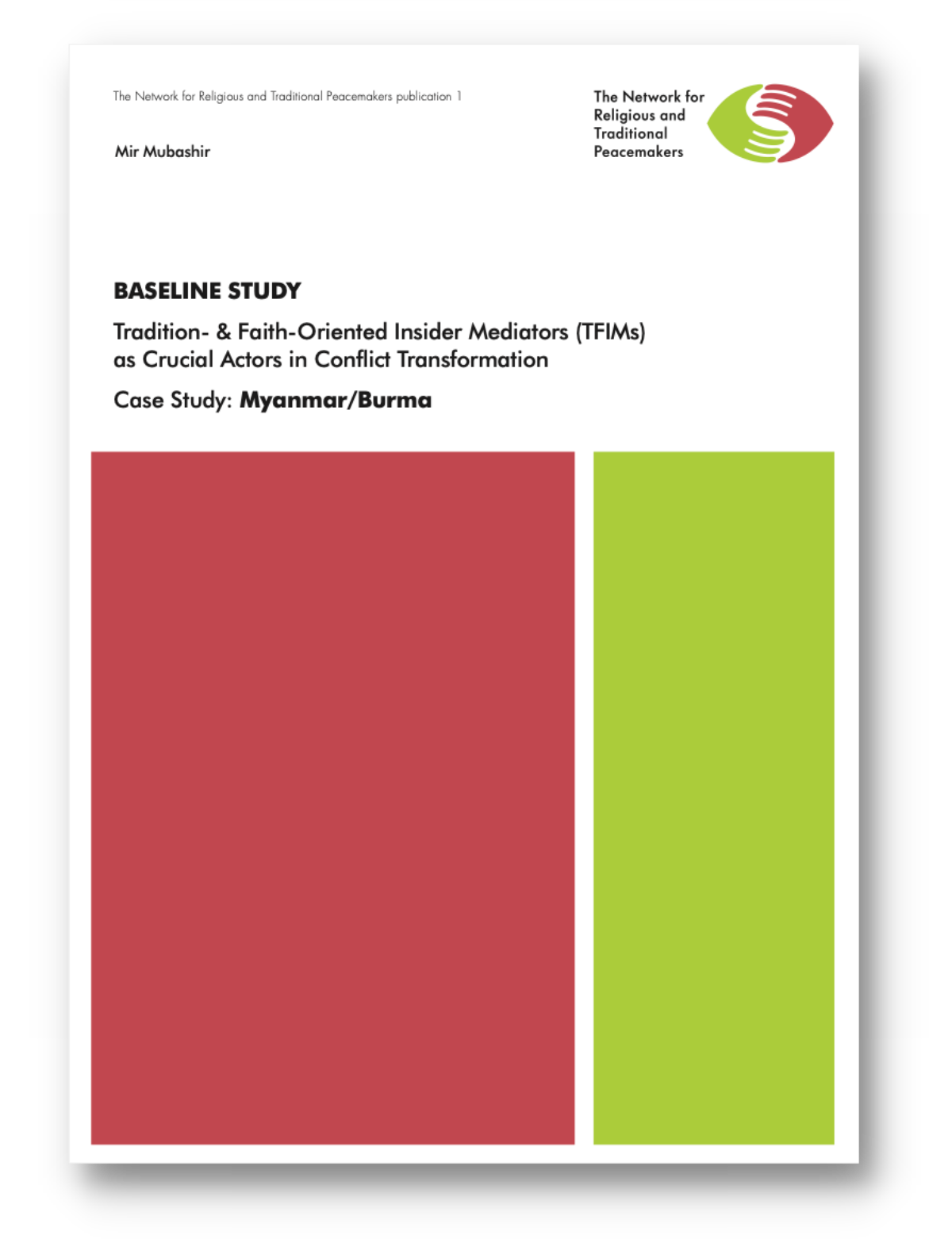 Myanmar's recent emergence from five decades of military rule, its gradual transition to democracy, and the religious and traditional dimensions of its multiple conflict contexts make the country a highly relevant example for the baseline study on TFIMs. The study is primarily based on a seven-day field visit to Yangon and various parts of the Mandalay region in April 2015, during which a series of conversations were held with a range of actors comprised of religious leaders from the Buddhist, Muslim, Baha'i, and Christian faiths as well as interfaith groups, prominent writers, intellectuals, academics and representatives from NGOs, CSOs, women´s groups and a number of state agencies.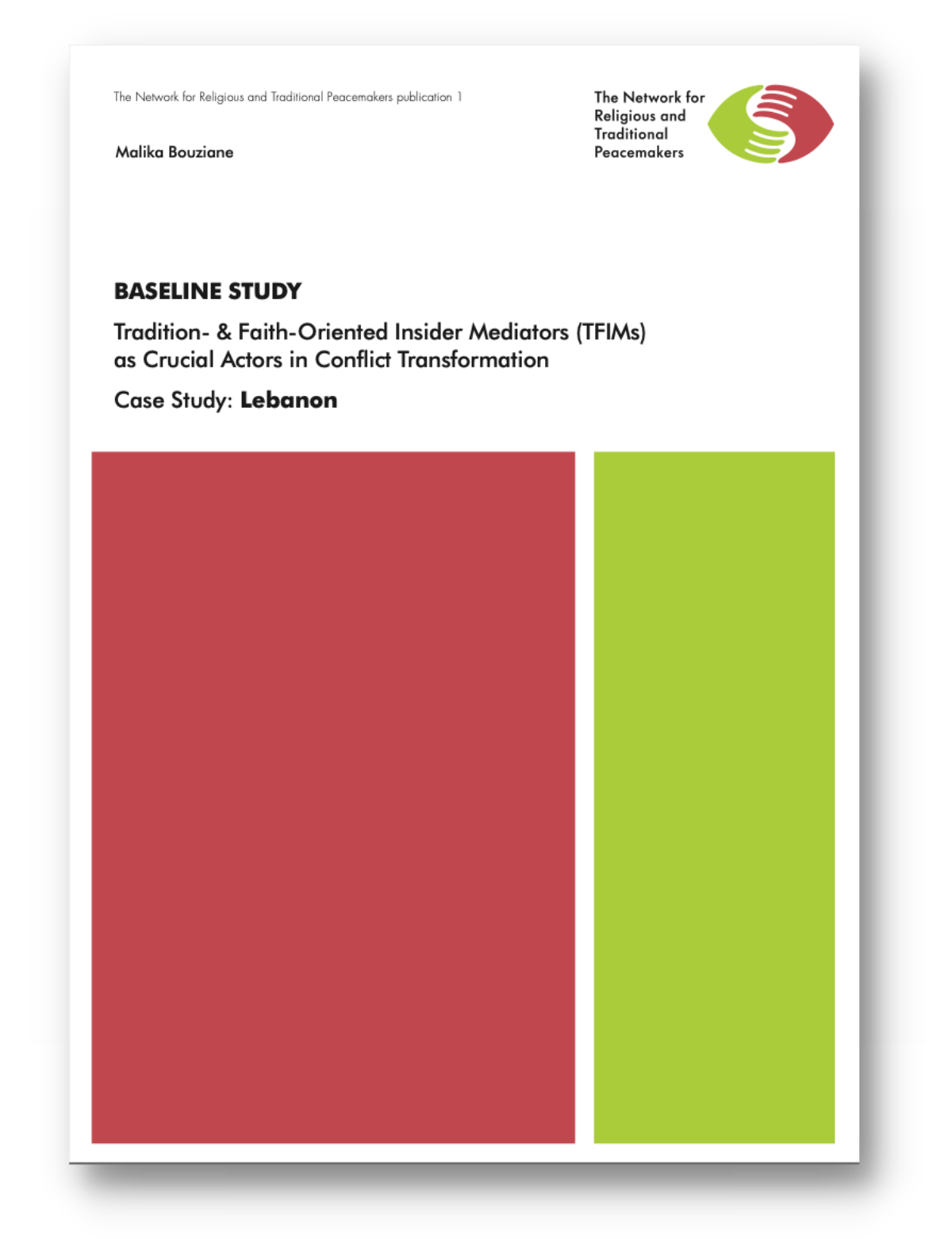 Given Lebanon's historical legacy of civil war and its social structure, one might easily be tempted to assume that identity politics and confessionalism are the main variables shaping mediation processes within Lebanese society. In fact, mediation has become a common means of dealing with different kinds of disputes, and the forms and modes of mediation have become as diverse as the conflicts themselves. Differences can be observed with respect to the techniques and procedures applied by mediators, and the context in which mediation takes place. The present report aims to elaborate on some forms of mediation that currently exist in Lebanon.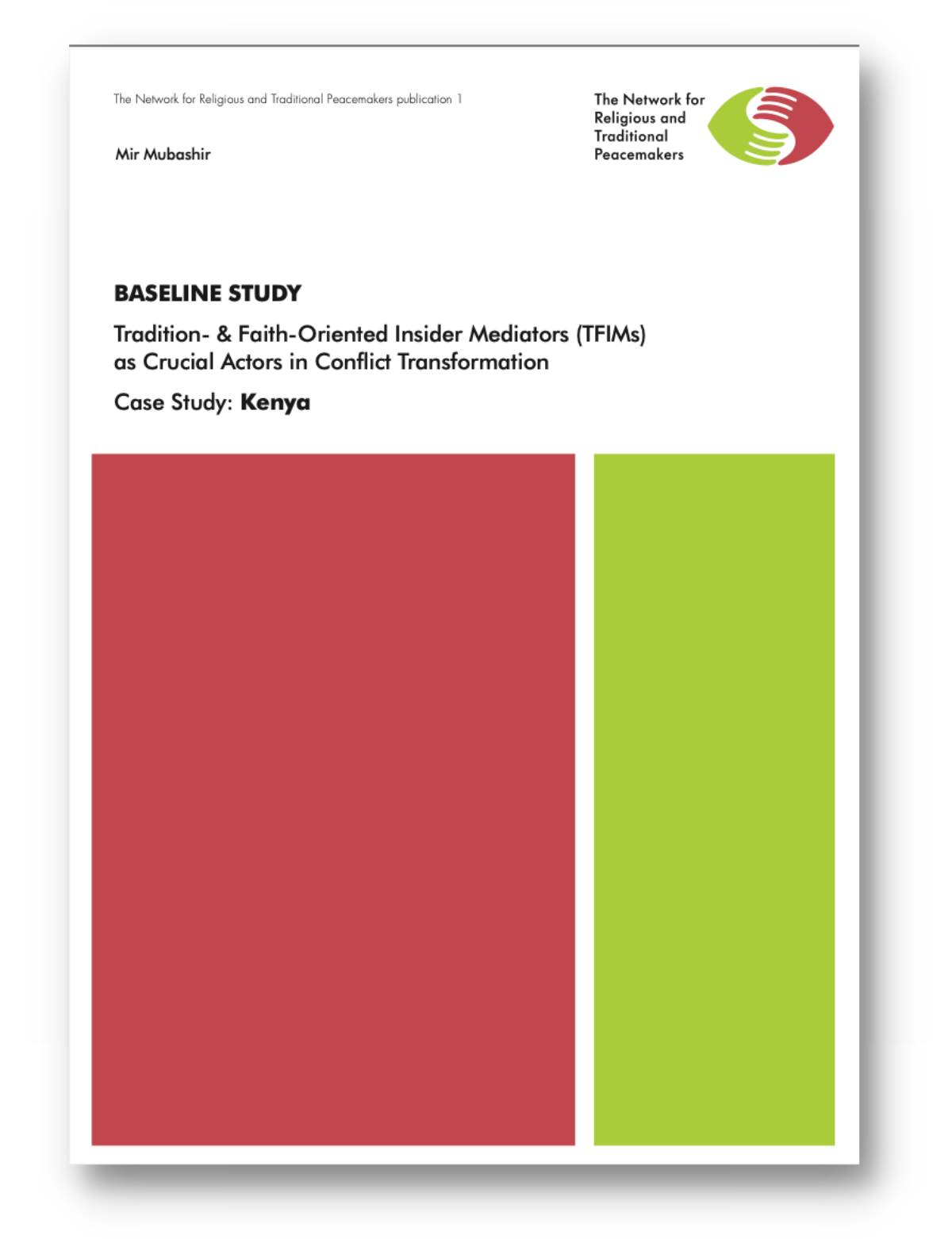 Since gaining independence in 1964, Kenya has had its share of conflicts. Many of the conflicts that date back to the first decades of independence are still ongoing, in varied forms and intensity. Given the fusion of tradition and religion in Kenya´s social fabric, TFIMs employ both traditional and religious mechanisms to mediate local conflicts. The case study explores the roles of TFIMs in Kenya and highlights the various approaches TFIMs have taken and continue to take in conflict transformation.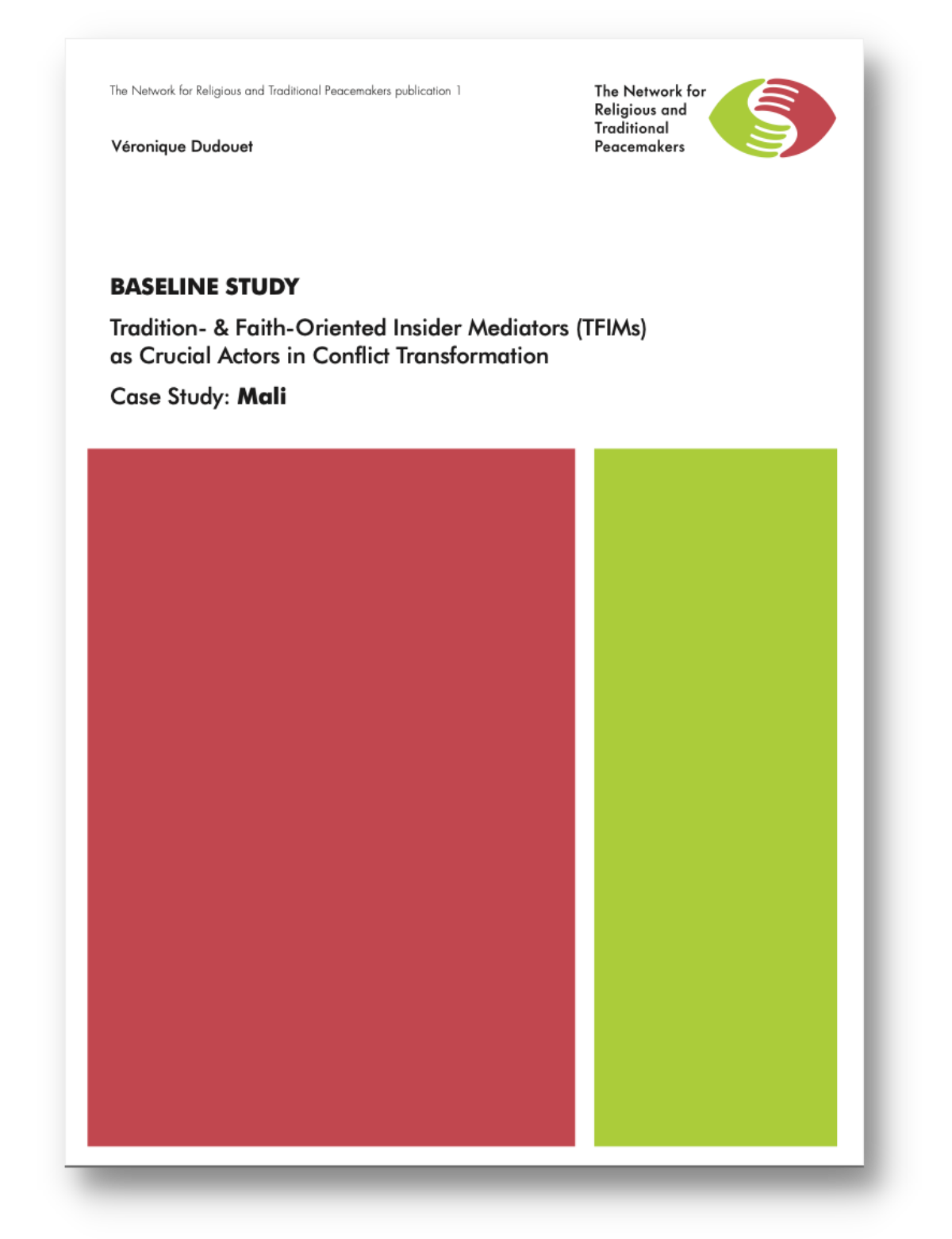 The study provides general information on the nature of conflicts in Mali and the role of religion and tradition in Malian society. It analyses the nature and role of TFIMs, the levels at which they intervene, their approaches and methods, their successes and challenges, and assesses their needs. To add to this, the study explores the potential controversies and risks associated with supporting TFIMs in a highly violent and politically tense environment.
The baseline study stems from the observation made by The Network for Religious and Traditional Peacemakers that in certain conflict contexts religious and traditional peacemakers exhibit remarkable potential as mediators. The study considers their peace mediation roles, their potential, and the constraints under which they work, and reflects on the opportunities for collaborative support that links various actors within conflict contexts.
Read in Arabic.
This video interview series showcases several TFIMs (tradition- and faith-oriented insider mediators) from different parts of the world who were interviewed by the Network for Religious and Traditional Peacemakers. They each share their personal stories about their work, their source of inspiration, and the challenges they face. To receive the latest video updates, subscribe to our YouTube channel here.
Venerable Napan Santibhaddo
The Venerable Napan is director of the Institute of Buddhist Management for Happiness and Peace (IBHAP) and Assistant Abbot of Wat Saket in Bangkok. He is also the founder of the "For Beautiful Life Group" (FBLG), a group of academic monks with the mission of applying the Buddha's teachings to self and social development. He has designed and led trainings for Buddhist community leaders in southern Thailand affected by violent conflicts. In addition, he designed a comprehensive morality and ethics training program for schools which has evolved into youth leadership training. Venerable Napan has participated in conflict resolution discussions in Uganda and has given lectures on peace-related topics at the Rotary Club of Thailand and the Rotary Peace Center at Chulalongkorn University. Recently, he has been focusing more on cultivating a culture of peace through his talks in public and at private organizations, doing so via traditional and new media. The Venerable Napan is an active user of social media and can be reached through his Facebook profile: Ven Napan Santhibhaddo Thawornbanjo.
Nang Loung Hom serves as a board of directors for the Walpola Rahula Institue in Sri Lanka, which builds on Buddhist teachings to promote social healing in Sri Lanka and elsewhere. She also designs content development for the Mindful Children and Families for Healing Society programs, the inter-religious dialogue, and the program of the intra-Buddhist dialogue for the Walpola Rahula Institute. Additionally, she supports Myanmar Buddhist monks and nuns from Sri Lanka in a personal capacity by providing training workshops and dialogue programs on conflict and peace issues. Nang Loung Hom also co-facilitates Buddhist approaches to conflict transformation programs at Buddhist institutions in Myanmar. She further works as a trainer for the Ethics Education Program.
Venerable Galkande Dhammananda
The Venerable Galkande Dhammananda Thero is the Chairperson of the Walpola Rahula Institute (WRI), where educational and training programs are offered for religious leaders and laypersons with an aim to support social healing. He is also a monk of the Theravada Buddhist tradition. In addition, he has actively been using social media to promote non-violence during inter-religious and inter-ethnic conflicts in Sri Lanka. Further, he has been working for social justice, harmony, and inclusive society with different religious leaders.
Al Haj U Aye Lwin is a founding member of Religions for Peace Myanmar and the chief convener for the Islamic Centre of Myanmar. Born in Myanmar, he is an educator by profession and serves as the Counselor and on the Board of Management at the Diplomatic School in Yangon. Al Haj U Aye Lwin has a long-running interest in Sufi traditions and serves as a Kalifa, or spiritual guide, in the Qadariya Aarliya Sufi order. In addition to having authored and translated dozens of books on Islam and comparative religion, he is deeply involved in peacebuilding and conflict transformation in Myanmar.
Mr. Muhammad Nuruddeen Lemu is the Director of Research and Training at the Da'wah Institute of Nigeria (DIN), Islamic Education Trust (IET) in Minna, Nigeria. He develops, facilitates, and conducts train-the-trainers courses in enhancing inter-faith dialogue and engagement, intra-faith cooperation, responding to various forms of religious extremism among Muslims, and promoting faith-based critical thinking – "Shari'ah Intelligence". He is a Director of several organizations including Lotus Capital (Halal Investments) Limited, the Development Initiative of West Africa (DIWA), and a co-founder of the Inter-Faith Activity and Partnership for Peace (IFAPP). He holds various positions in a number of other organizations that focus on issues related to social welfare, government policy, education, business, sustainable development, environment, leadership, family life, youth empowerment, and gender equity.
Mr. Lemu has trained and given talks to students, lecturers, youth, and community leaders in over 30 countries, and he has moderated, presented, and produced more than 200 radio and television programs. He was nominated by the Nigeria Supreme Council for Islamic Affairs (NSCIA) to represent the Nigerian Muslim Leadership at the National Conference (CONFAB 2014), and his advice on issues related to violent extremism, religious intolerance, and interfaith relations is regularly sought by various national and international agencies. He is a Fellow of Aspen Leadership Institute (ALI) and a member of the Aspen Global Leadership Network (AGLN), Colorado, USA; a Fellow of the King Abdullah bin Abdulaziz International Centre for Interreligious and Intercultural Dialogue (KAICIID), Vienna, Austria, and of the Africa Leadership Initiative – West Africa (ALIWA). He holds an MSc. in Resource Management from Edinburgh University, the UK, and a bachelor's degree in Agriculture from Ahmadu Bello University, Zaria, Nigeria.
Reverend Susan Hayward is a senior advisor for religion and inclusive societies at the U.S. Institute of Peace (USIP), where she leads USIP's efforts to understand religious dimensions of conflict and advance efforts to engage religious actors and organizations in peacebuilding. While she covers USIP's programs worldwide, her own work has focused on Myanmar, Sri Lanka, Colombia, and Iraq. She is particularly interested in the role of women in religious peacebuilding and co-edited a book on the topic entitled Illuminating the Unseen: Women, Religion, and Peacebuilding. An ordained minister in the United Church of Christ, she is currently pursuing her doctorate in theology and religious studies at Georgetown University, focusing on Buddhist and Christian responses to authoritarianism and conflict in Myanmar.