You're Invited: SOAR Policy Dialogue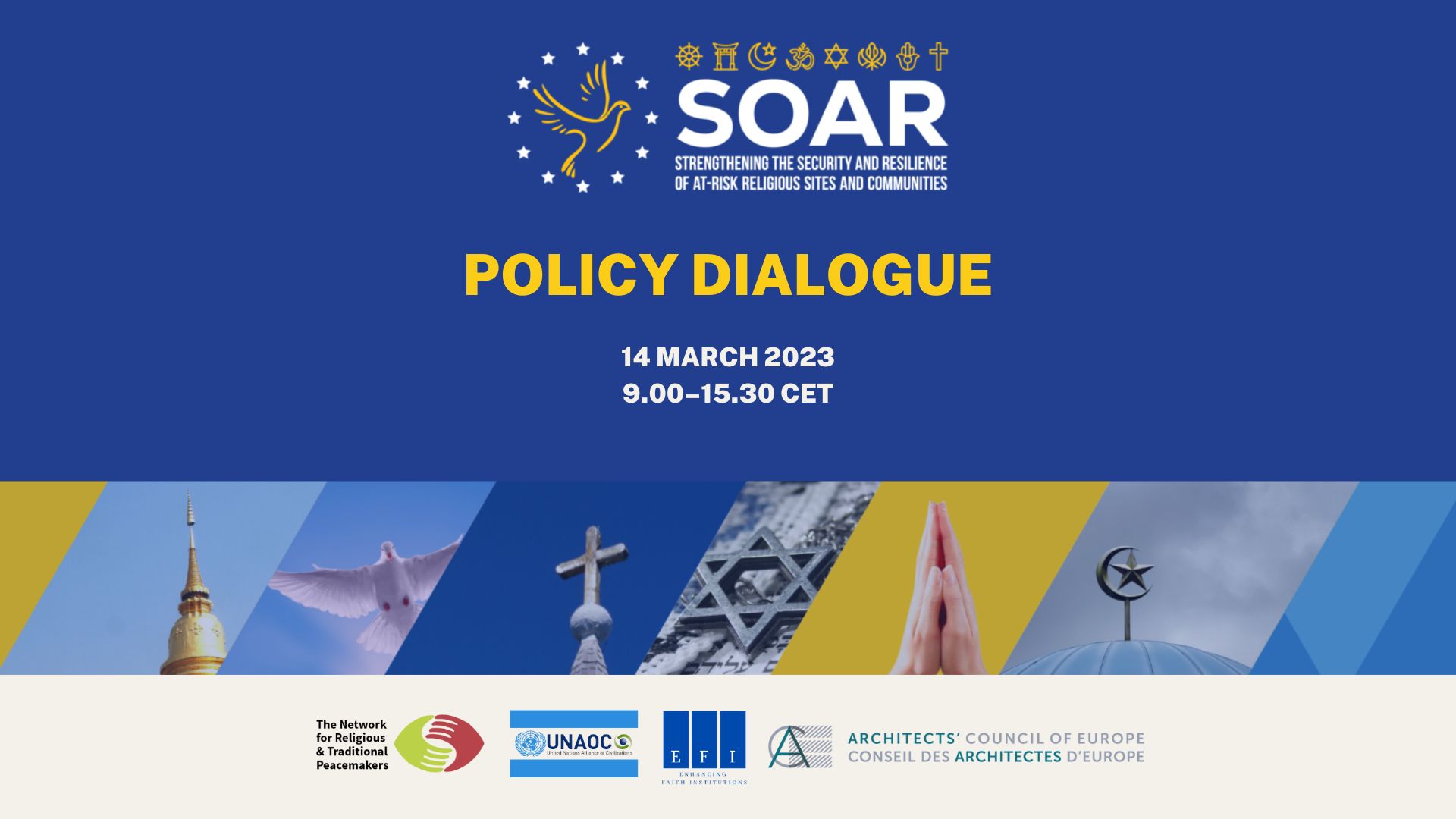 The European Union funded SOAR Project will host a final policy dialogue on 14 March with leading experts from the EU, security officials and faith communities to reflect the project's recommendations on how to support multi stakeholder approaches to safeguard houses of worship in the EU. 
 Following a keynote speech by a representative of the United Nations Alliance of Civilizations, the final seminar will convene representatives from the EU Commission, national government representatives, religious leaders and CSOs to identify how to actualize the findings of the policy brief and the collection of recommendations for EU policymakers. The seminar will include panel discussions on existing policy frameworks supporting the protection of places of worship as well as addressing the rise of violence against religious sites. A reception will follow the formal programme. 
The policy recommendations were identified through seven National Policy Dialogues hosted by the SOAR project, in which relevant stakeholders shared best practices to formulate such recommendations to support strengthening the safety and security of religious sites and places of worship within the EU. 
Registration is required to join the webinar. Online participants are encouraged to post questions in the chat on Zoom.

9:30 – 10:30 Opening and welcome
10:30 – 10:50 Coffee break
10:50 – 11:10 Presentation of policy recommendations and reflections
11:10 – 12:10 Fireside chat: Policy framework supporting the protection of places of worship
12:10 – 13:10 Break for Lunch
13:10 – 13:20 SOAR testimonials
13:20 – 14:20 Fireside chat: Addressing the rise of violence against religious sites: religious communities and law enforcement collaboration
14:20 – 14:40 Coffee break
14:40 – 15:00 SOAR testimonials
15:00 – 16:00 Open discussion and closing
'Strengthening the security and resilience of at-risk religious sites and communities' (SOAR) project will contribute to advancing the protection and safeguarding of places for worship, with a focus on communities of worship within the European Union (EU).The SOAR project seeks to  increase the awareness of, and capacity to respond to physical and human security threats to places of worship. SOAR will utilize a wide range of communication channels and will provide our audiences with a unique knowledge base. This will include training, guidance, and resources, with the opportunity for virtual engagement and the evolution of virtual networks and communities of practice.
 SOAR is funded and supported by the European Commission and will be delivered by Enhancing Faith Institutions (EFI), the Network for Religious and Traditional Peacemakers, and the Architects' Council of Europe (ACE).