Click here to watch the full webinar
Three young peacemakers from different countries and diverse religious communities gathered for a virtual discussion on 1 December to share lessons learnt from their work during the COVID-19 pandemic. A webinar entitled 'Youth as Agents of Change' showcased problems encountered and best practices developed over recent months by three young interfaith experts – a Lutheran human rights activist from Indonesia, a member of the Muslim Youth Forum in Finland and a Hindu representative of Religions for Peace. The live streamed encounter was organized by the Lutheran World Federation (LWF), the World Council of Churches (WCC) and the Network for Religious and Traditional Peacemakers (NRTP).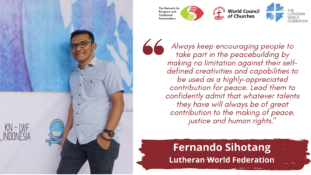 As the impact of the global COVID-19 pandemic grows, youth peacebuilders continue to play critical roles in bringing awareness of the virus to communities, addressing issues of hate speech and misinformation, supporting community actors and mitigating conflict. All three of the young peacemakers urged people of faith to be more active in sharing stories of solidarity and cooperation to counter hate speech and negative narratives around religious divisions and conflict.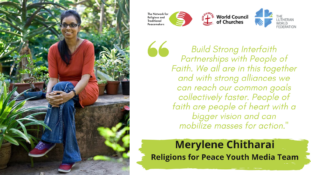 While communities are facing challenges, such as loss of livelihoods, an increase in gender-based violence and a decline in education, all speakers acknowledged the ways in which the pandemic has brought communities together as they are aware of the whole-of-society impact of this virus.  Sihotang noted practical  practical interfaith efforts supported by youth in many areas of justice, peace, climate action and human rights advocacy. These include campaigning for a long delayed anti-sexual harassment bill, speaking up about corruption, monitoring abuses of religious freedom laws, making petitions about mining projects and offering education on diversity and multi-culturalism in the majority Muslim nation.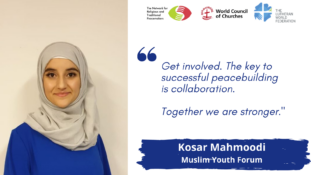 All three presenters acknowledged the challenges of the 'technology gap' for marginalized communities, as well as the physical and psychological effects of spending so much more time in front of a computer screen. There is also a strong need for young peacemakers to "translate webinars into actions" and to set positive examples in order to "become the change you wish to see in the world."
Recalling the 2015 UN Security Council resolution on Youth, Peace and Security, which urged governments to give youth a greater voice in all levels of decision-making, the young interfaith activists agreed that more needs to be done to include – not just token but meaningful – youth participation at the peacemaking table.  Youth participation is critical in addressing global challenges, such as the pandemic, while simultaneously supporting in achieving the 2030 Agenda.