COVID-19 Recovery: Youth taking action for a sustainable future
6 April 2022 | SIDE EVENT AT THE 2022 ECOSOC YOUTH FORUM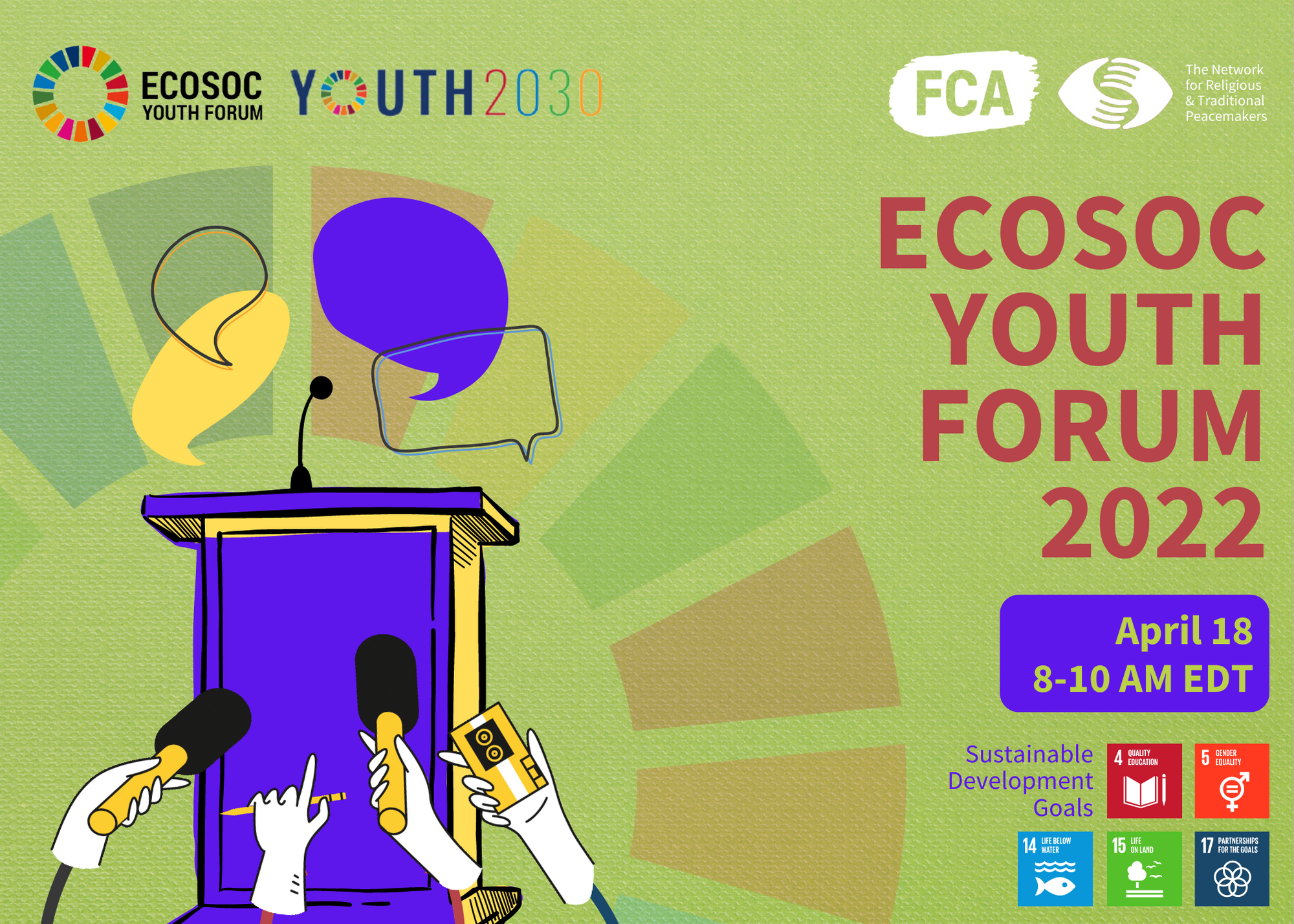 On Monday, April 18, from 8:00-10:00 AM EDT, the Network for Religious and Traditional Peacemakers and Finn Church Aid will co-host an event titled, "Advancing Inclusive Peace Education: Best Practices and Lessons Learned," as part of the official side event day for the Youth ECOSOC Forum.
The COVID-19 pandemic has immensely impacted both SDG 4 in causing the closure of schools and universities, impacting more than 1.5 billion children and youth worldwide, as well as SDG 16, in further exacerbating inequalities and conflicts. There is a strong connection between SDG 4 and SDG 16 through the alignment of understanding and promoting peace education within societies. Promoting inclusive and equitable quality education and promoting lifelong learning opportunities for all can enhance the lens afforded by peace education which is interlinked with approaches described within peacebuilding efforts.
The 2022 Youth ECOSOC Forum provides a platform to hear from youth-led peacebuilding initiatives on how they are building back better through innovative and transformative peace education initiatives. This event organized by Finn Church Aid and the Network for Religious and Traditional Peacemakers will present an opportunity to highlight best practices and lessons learned from youth-led initiatives, including the current challenges they face as a result of the COVID-19 pandemic in advancing peace education within their communities.
The Youth ECOSOC Forum, which takes place annually in April, provides a platform for young people to engage in a dialogue with Member States and other actors on concrete actions to rebuild from COVID-19 and to advance toward the implementation of the Sustainable Development Goals (SDGs) Decade of Action. This year, the Youth Forum will address the theme of ECOSOC and the 2022 UN High-level Political Forum on sustainable development (HLPF) on "Building back better from COVID- 19 while advancing the full implementation of the 2030 Agenda." It will also review progress in the areas of quality education (SDG4), gender equality (SDG5), life below water (SDG14), life on land (SDG15), and partnerships for the goals (SDG17). Review the full concept note.
Please join us for the event by registering here!
Jayaa Kanwal Youth Impact
Issah Toha Shamsoo African Students for Interfaith Tolerance
Farin Khan One Circle
Anthonia Folashade Building Blocks for Peace Foundation
Ana Maria Daou Adyan Foundation
Himanshu Panday Dignity in Difference
Wisdom Addo West Africa Center for Peace Foundation
Zulaika Nanfuka Uganda Muslim Youth Development Forum
Dagmar Nolden Berghof Foundation