Inclusivity Working Group
The Inclusivity Working Group is a key component to advance inclusivity within the Network and its members.  This group brings together individuals and organizations interested in the intersection of women, youth, faith, tradition, conflict and peace and committed to collaboration around shared objectives.
The Working Group is open to Network members and supporters, with Network Secretariat providing coordination and other support as needed.  The Working Group provides tools, knowledge and expertise that Network members, religious and traditional actors as well as other peace and mediation stakeholders can benefit from. 
Through the working group's collective effort, the Network is able to increase understanding of inclusive tradition and faith oriented peacebuilding and the roles of women and youth of faith, through research, analysis and evidence-based advocacy. Increased understanding on gaps, needs and capacities informs capacity-development and trainings needs.
More information on Working Groups will be available in early 2020.  For more information, please contact secretariat@peacemakersnetwork.org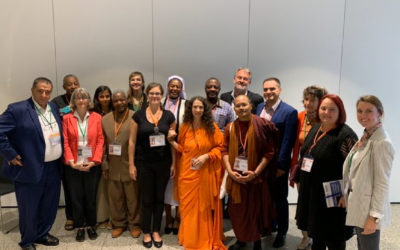 Through the leadership of Religions for Peace, the Network hosted a Religion and Mediation...