Peacemakers Network and UNAOC Brings Youth Delegation to Helsinki and Geneva
In March 2023, the Network continued its partnership with Network Member the United Nations Alliance of Civilizations (UNAOC) on their intercultural fellowship exchange of young people from Europe and North America and the Middle East and North Africa focused on, ''Countering racism and discrimination: the nexus to building pluralistic and diverse societies," this time focusing the exchange in Europe. The fellowship, which started in the Fall of 2022, began in Morocco at the UNAOC Forum. For this leg of the exchange, the fellows traveled to Helsinki, Finland and Geneva, Switzerland to meet with key stakeholders working on this thematic focus, including policymakers, UN entities and broader civil society.
The trip to Helsinki began with a workshop led by the Network focusing on intercultural communication and later engaged Finn Church Aid's young Changemakers as a networking opportunity.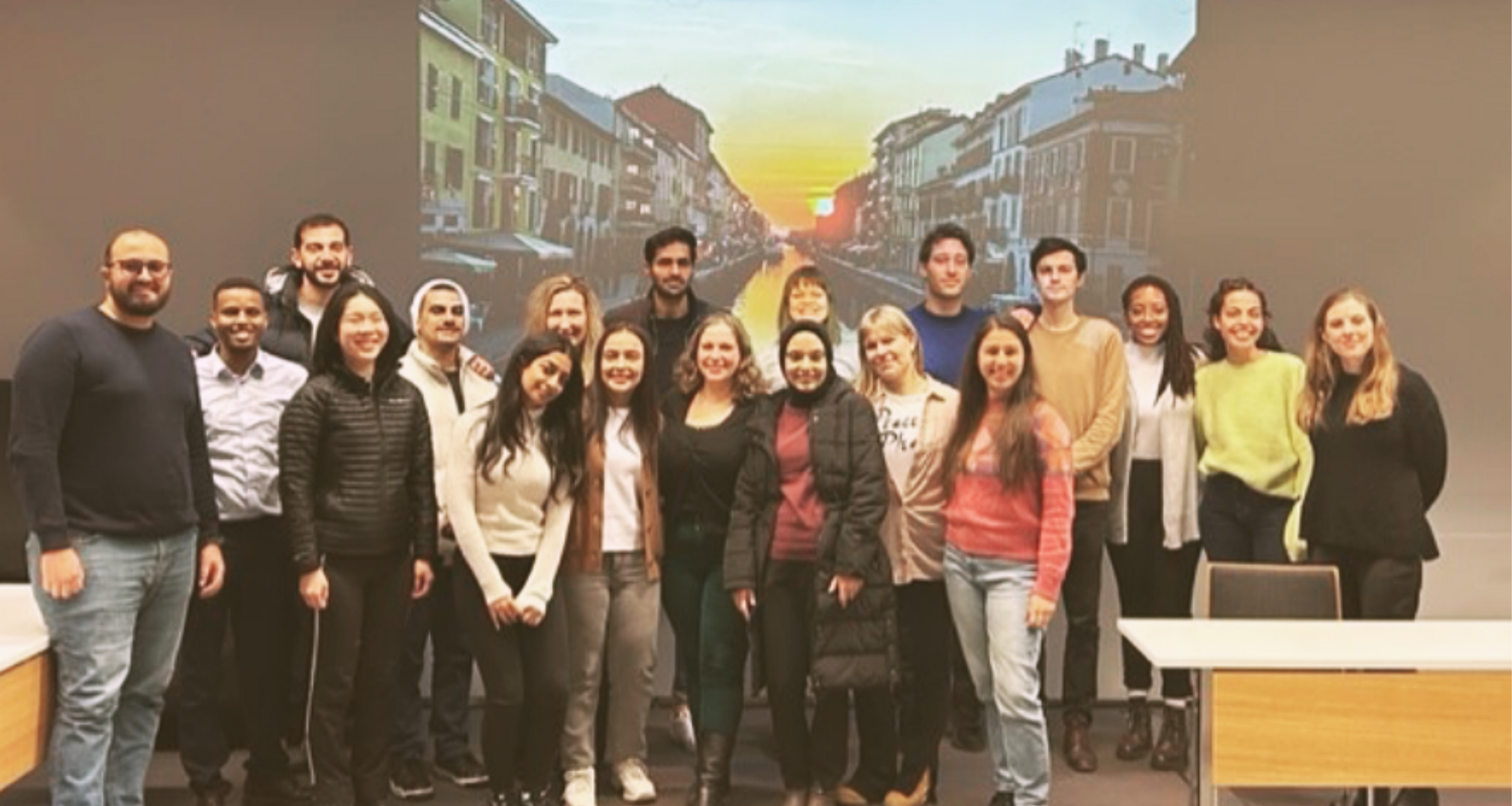 UNAOC fellows meet with Ambassador Heino Timo, Ministry for Foreign Affairs of Finland.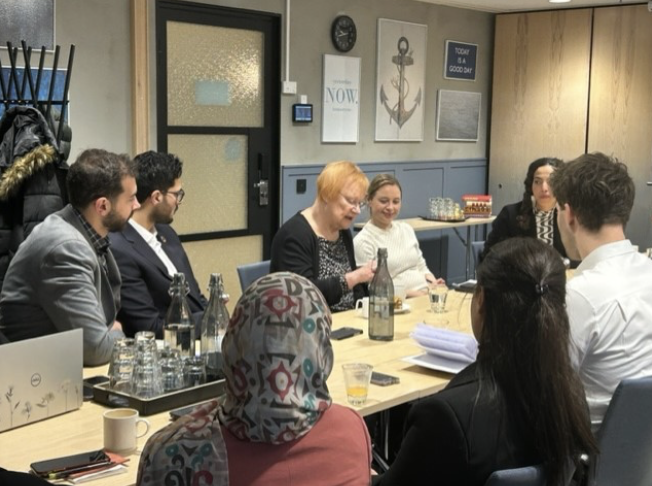 UNAOC fellows listening to H.E. Former President Tarja Halonen in Helsinki, Finland.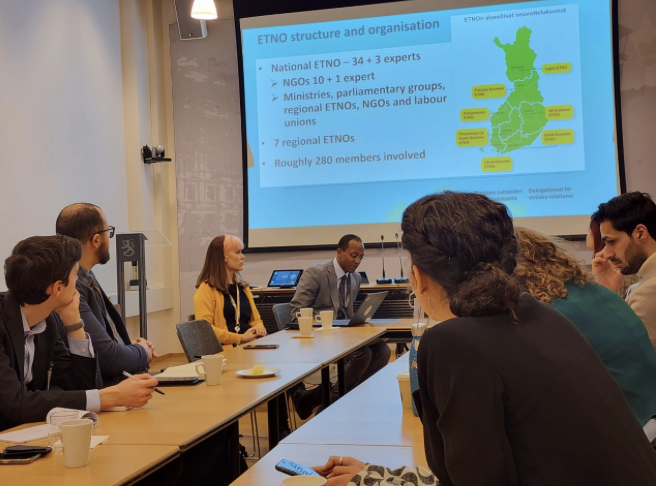 UNAOC fellows meet with Ms. Mia Luhtasaari, Senior Specialist within Finland's Ministry of Justice.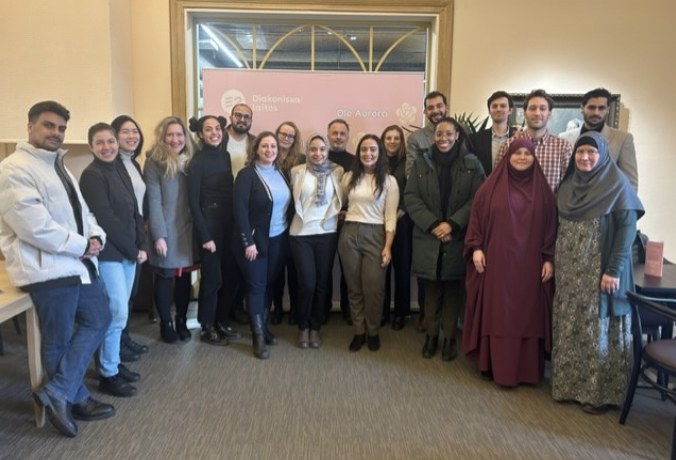 UNAOC fellows meet with local civil society actors in finland, including Network members Finn Church Aid, the Helsinki Deaconess Foundation, and Oasis Central Foundation.
In Geneva, fellows met with members of key UN agencies, including the World Health Organization, the UN High Commissioner for Refugees, the UN Office of the High Commissioner for Human Rights, and the UN Population Fund. The fellows even received a high-level visit from UNHCR Assistant High Commissioner for Protection Gillian Triggs, where discussions centered around emerging challenges of refugees and asylum-seekers. Fellows also met with members of civil society, including Network Members the Cordoba Peace Institute, Arigatou International, Interpeace, Principles for Peace and the World Council of Churches.
UNAOC fellows meet with Network member the Cordoba Peace Institute in Geneva, Switzerland.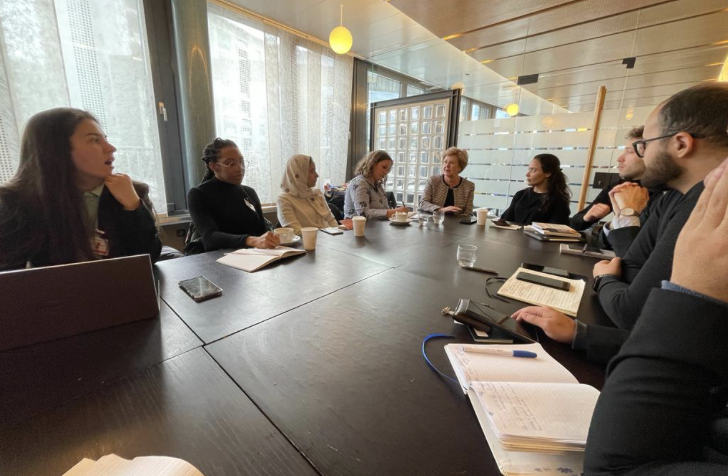 UNAOC fellows meet with Gillian Triggs, Assistant Secretary-General and Assistant High Commissioner for Protection of the United Nations High Commissioner for Refugees.
On the last day in Geneva, the fellows reflected on their fellowship and what they had learned, and made plans for their joint project submissions.
To hear personal reflections from one of the fellows, read Ali Mahmoud's reflection blog on his experience from the fellowship.