The Role of the UN: Fostering Inter and Intra-Religious Dialogue in Peacebuilding Efforts
April 2022 | Roundtable Summary Note
This roundtable served as a platform to identify and advance ideas around how the United Nations (UN) can help to foster and support faith actors in both inter-religious and intra-religious dialogues within peacebuilding efforts for a more inclusive process. This roundtable builds upon efforts led by the Dag Hammarskjold Foundation, in its publication "Dialogue in Peacebuilding: Understanding Different Perspectives," including the Network for Religious and Traditional Peacemakers' chapter on, 'Bridging Faiths and Worldviews Through Dialogue.'
This session highlighted the important role that faith actors play within peacebuilding dialogues, including the role of women and youth of faith in particular. An estimated 84% of the global population claims some form of religious affiliation, 2/3 of current conflicts have a religious dimension, and religious and ethnic or other traditional structures shape the functioning of many conflict-affected societies. Participants highlighted the important role faith-based actors play (particularly at the local grassroots level) in supporting dialogue between conflicting groups, contextualizing international peacebuilding instruments and agendas, and fostering and advancing local ownership of these processes. Faith-based peacebuilders can build resilience to violence by challenging incitements to violence. The role of the Cardinal of Sri Lanka in preventing retaliatory violence in the aftermath of the Easter Attacks in Sri Lanka in 2019 was highlighted as one such example.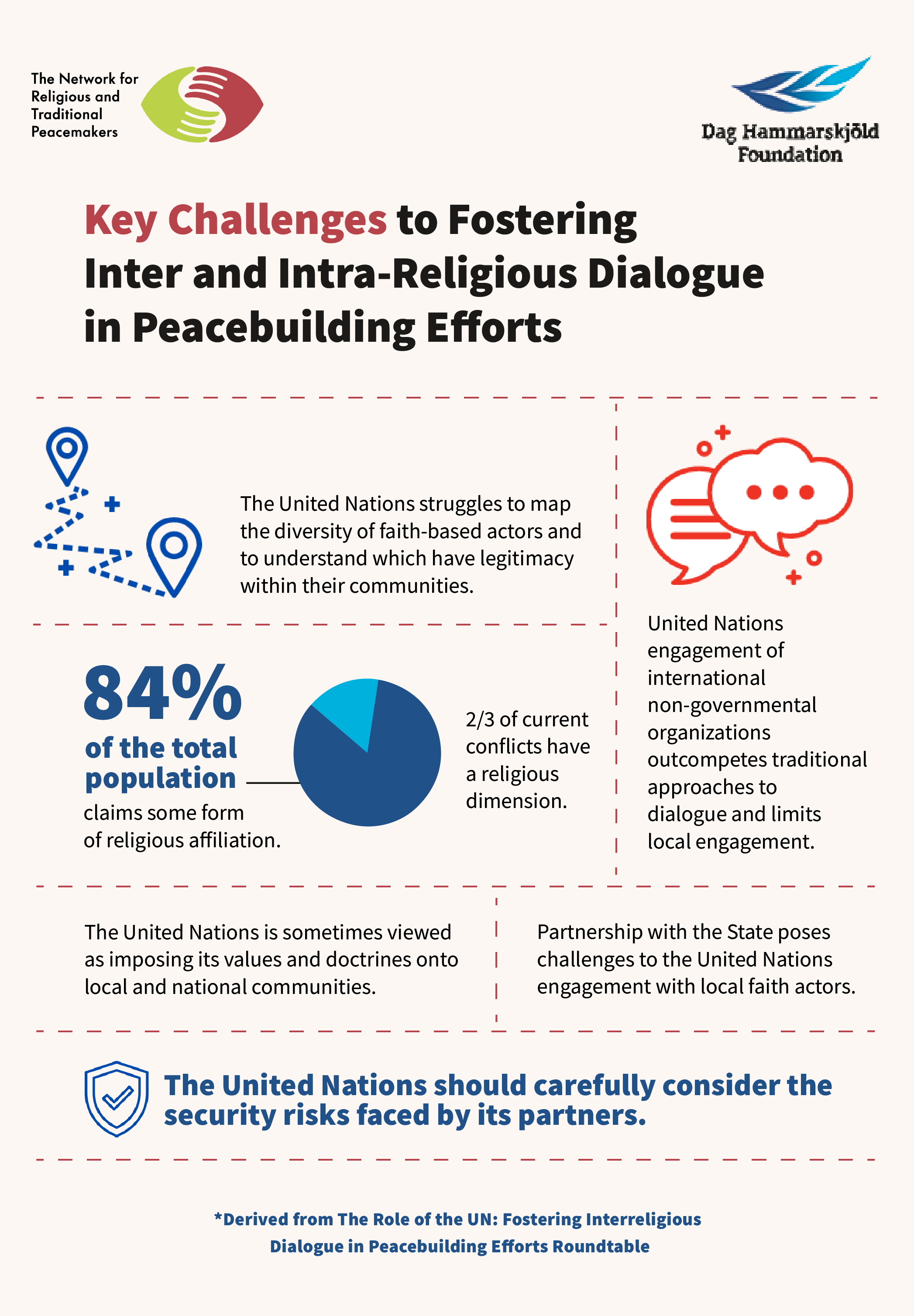 The UN struggles to map the diversity of faith-based actors and to understand which have legitimacy within their communities. This challenge is accentuated in mission settings where the legitimacy of different faith-based actors evolves over the course of the conflict. At times, the UN can be perceived as supporting one faith over another because certain religions have more organized structures in place, making it easier for the UN to find and engage them. Participants called for an identification of which religious actors are not being invited to the table, understanding why the UN is not inviting them and what the effects of that are on peacebuilding work.
Participants identified several proposals to improve the UN's engagement with diverse faith-based actors. Participants called for increased mapping of youth of faith across countries and not just in capital cities or in specific conflict areas. They called for the engagement of youth at an early age and the early identification of tomorrow's leaders. Participants highlighted capacity-building programs targeted to different types of faith-based actors including youth, women associated with male religious figures, and grassroots faith-based organizing structures as an important role for the UN to support the diversity of faith-based actors. This support should be conducted in parallel with resourcing faith-based organizations. The UNAOC Youth Solidarity Fund was highlighted as an example of direct UN funding to support youth-led faith-based organizations. Finally, participants highlighted the importance of engaging faith-based actors from diverse cultural backgrounds and operating under diverse normative frameworks.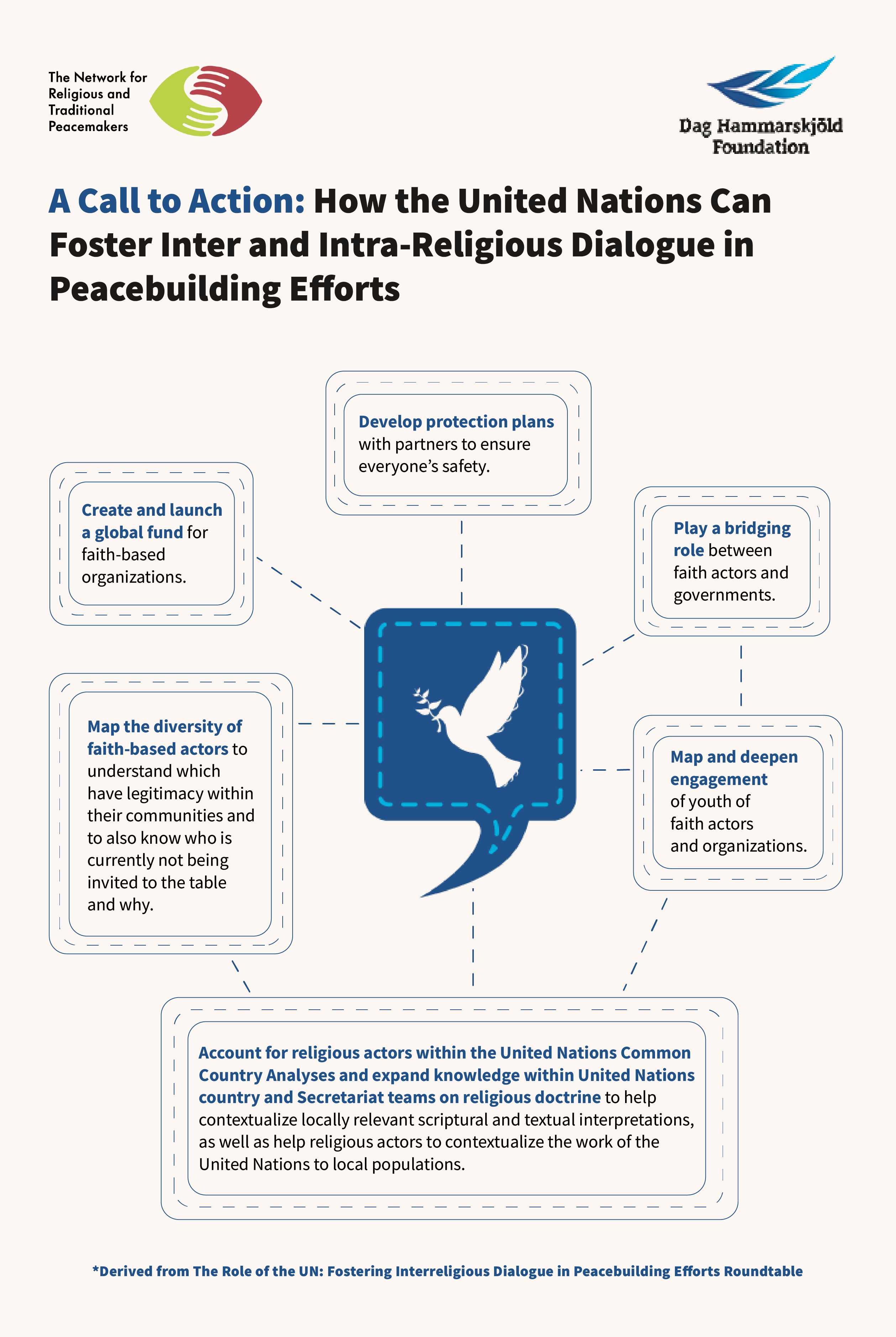 Partnership with the State poses challenges to the UN engagement with local faith actors. State designation of religious leaders as enemies of the State or State involvement in inter-faith platforms can hinder the independence of faith-based peacebuilding. However, participants called for the UN to play a bridging role between faith actors and governments.
Speakers cautioned that the UN must carefully consider the security risks faced by its partners. Risk of reprisal for working with the UN, including from the State, poses a serious threat to faith-based actors. Partnership with the UN can result in faith actors being associated with foreign interference resulting in physical threats to safety and harming their legitimacy within their communities. The UN should work together with its partners to develop protection plans.
Several participants highlighted concerns with the perception of the UN as imposing values and doctrines onto local and national communities. This limits local ownership within those communities. Moreover, participants argued that the engagement of INGOs outcompetes traditional approaches to dialogue and limits local engagement. Faith-based actors were identified as important to contextualize UN work and global policy agendas to local contexts and with locally relevant scriptural and textual interpretations. In order to expand this role, participants called for accounting for religious actors within UN Common Country Analyses and expanding knowledge within UN country and secretariat teams on religious doctrine.