Women of Faith Advancing Economic Development
14 March 2022 | SIDE EVENT AT 2022 CSW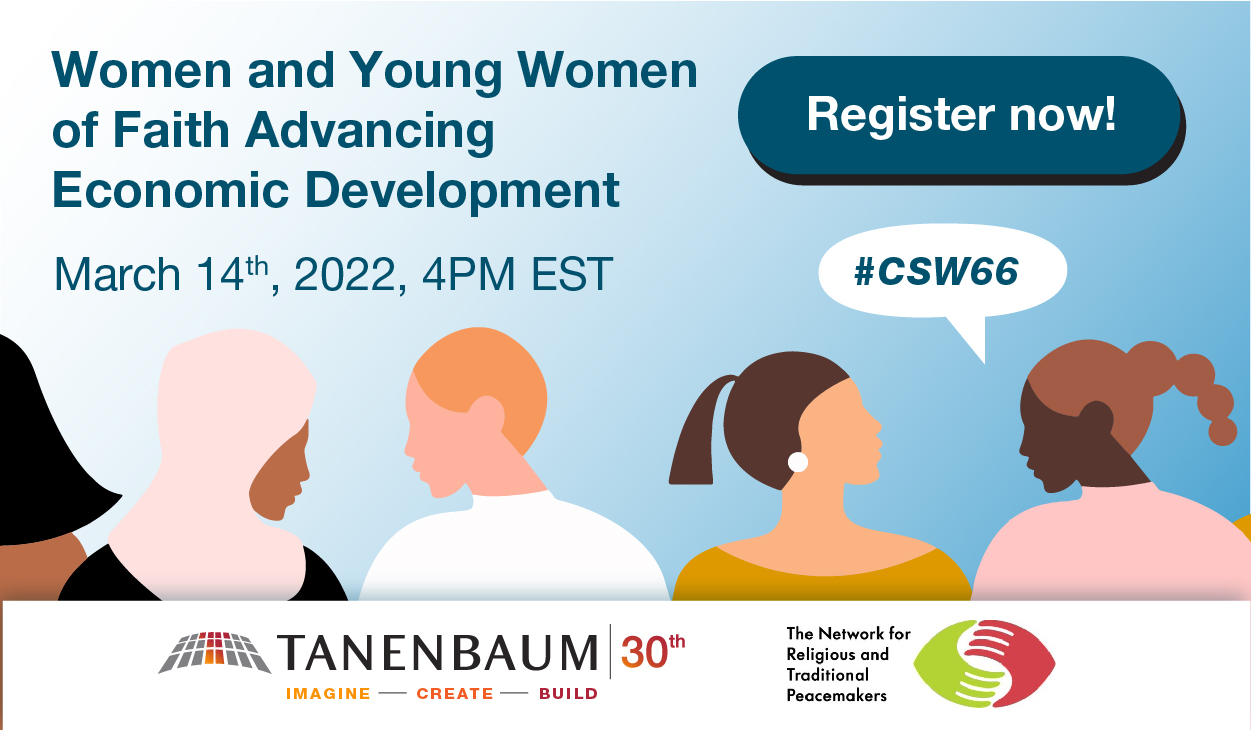 On Monday, March 14, 2022, the Network for Religious and Traditional Peacemakers and Tanenbaum Center for Interreligious Understanding showcased examples of faith actors advancing economic development as part of the 66th session of the Commission on the Status of Women (CSW). The event brought an opportunity for speakers to share how their work has helped to improve local economies by creating employment for women and young women in all of their diversities. Missed the event? Watch the recording below!
Moderator, Dr. Khouloud Khatib, Co-Founder and President of the Lebanese Organization for Defending Equality and Rights (LOUDER), explained how climate change and disaster risk reduction policies remain one of the greatest challenges of the 21st century. It is recognized that women are most vulnerable to the effects of climate change. Without gender equality today, a sustainable and equal future remains beyond our reach. Analysis shows that improving gender equality can enhance economic growth, and financial stability, and make societies more resistant to violent conflict.
Today, we must change the narrative that women are recipients of aid and victims of conflict. Women are in fact peacebuilders, changemakers, and the ones responsible for building community.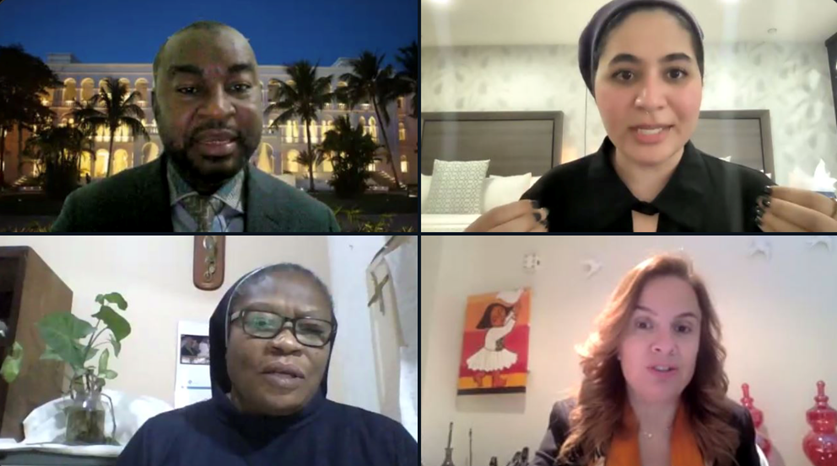 Dr. Sarah AK Ahmed, Director of Program Operations at Preemptive Love, prioritizes engagement in disadvantaged communities such as IDP camps, refugee camps and their host communities. It is important to hold space for women to imagine their own roles in creating and leading businesses, especially while the economy remains a largely male-dominated sector.
To determine how to best support local communities and ensure women have opportunities to meaningfully engage, Dr. Ahmed follows three key steps:   
1. Identify the communities in need and get involved. Listen to their needs, and analyze what shape the economy takes inside of those communities;
Link

those communities with others that have gone through similar efforts. This creates a group of those who are "learning" from those with "lessons learned" through efforts such as entrepreneurship circles; and

Do

. For Dr. Ahmed and her team, this most often takes the shape of developing sustainable self-owned micro-businesses.
In Syria, a huge number of families now consist of just women and children. Men were either at war, detained, missing, or dead. Tastakel Organization board member, Thurayya Backour, explained how the organization began to mentor women in smaller communities to enable them to learn crafts and enter the workforce to provide for their families. The focus shifted to reeducation, as they identified that many Syrian women were already educated but never were expected to enter the workforce. Tastakel works to provide professional development for women and to open the path for them to play an important role in the peace process, including: bringing more women to meaningfully participate at the negotiation tables and in the creation of local governments, as well as being heard internationally such as at the UN. In addition, Tastakel offers advocacy training, psychosocial support, and capacity-building to encourage Syrian women looking to run their own small businesses, join the workforce, and take leadership positions such as public office.
In Nigeria, Sister Veronica Onyeanisi, Executive Director of Women's Interfaith Council (WIC), supports young girls through WIC's skill acquisition training to women, as well as capital to start a business and mentorship throughout the process.  WIC educates the public on women's rights through a radio program that discusses issues concerning women and young girls. As it stands, young women are faced with complex challenges without the means to meaningfully address them. For instance, a girl's education in Nigeria often ends at home, in the kitchen. Young girls are married off as early as 12 years old. 
For a woman to have a voice, she must be economically empowered.  One of the biggest challenges recognized by Sister Onyeanisi is the indigenous and cultural harmful practices, which are often backed up by religious text. For example, in many places there is a focus on pudor: women are expected to stay at home and not carry out activities. It hinders their leadership positions, as even those with access to decision-making positions are often there for show and not actually listened to. 
Although women champion their own cause, they need their male counterparts to spread the message. The biggest challenge is the patriarchal element of most religions, which does not allow for women to hold important office within their religions. Kassoum Coulibaly and his organization, the Global Institute for Women's Empowerment Group believe it is crucial to include young boys in the conversation around women's rights, so that men can become part of the solution. Mr. Coulibaly and his organization have developed a pilot initiative to bring women into the agricultural sector. Educating young girls in agriculture allows for a higher chance at creating a sustainable business, having access to capital, and owning land. The results are a stronger economy and more food security, which directly impacts the overall security situation in Mali. 
A Final Tweet!
To conclude the event, panelists to send us off with a short "tweet" encapsulating their message:
Dr. Sarah AK Ahmed: "Empowered women empower women".
Thurayya Backour: "Empowered women make the world a better place."
Sister Veronica Onyeanisi: "Continue to empower women, ensure they are qualified, equipped, and ready for any position they aspire to".
Kassoum Coulibaly: "When we empower women, we empower our communities. Faith leaders should be at the front of that thinking and action. And let's bring more men and boys into the conversation!"